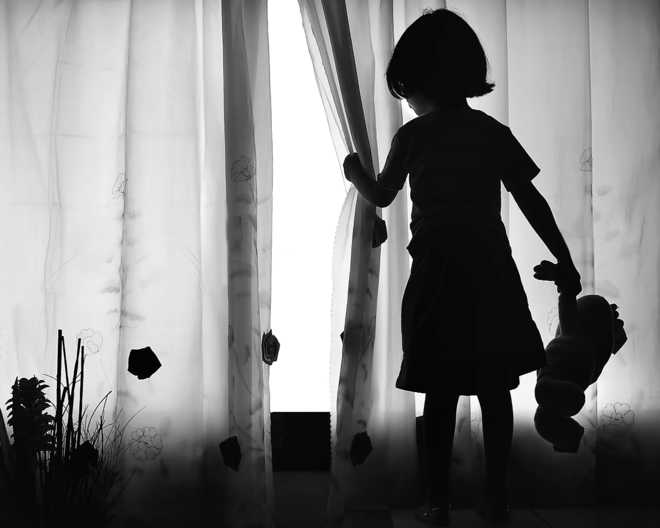 Shonali Prakash
Anoushka Shankar, a well-known sitar player and daughter of the late sitar legend Pandit Ravi Shankar, shocked the world in 2013 with a startling revelation. "As a child, I suffered sexual and emotional abuse for several years at the hands of a man whom my parents trusted implicitly." Likewise, celebrities like Kalki Koechlin, Anurag Kashyap, Pamela Anderson, who were sexually abused as children, have spoken up about the trauma they faced as children.
In July 2011, a resident of a slum in New Delhi briefly left her six-month-old grand-daughter in the care of her neighbour, Sonu Lalman. When she returned after 15 minutes, the baby was crying and bleeding from her vagina. A doctor who had examined the child's wounds reported the case to the police. Lalman was arrested, and within seven months, had been tried, convicted and sentenced to 10 years in prison.
No holds barred
It is obvious from media reports that Child Sexual Abuse (CSA) has nothing to do with age, gender, religion or socio-economic strata. "There are many postulations about why, when and how the abuser does what he or she does," observes Dr Nayreen Daruwalla, Director, Programme on Prevention of Violence against Women and Children, SNEHA.
A 23-year-old father of a 10-month-old baby would sexually exploit his 12-year-old sister. An NGO, Protsahan, got a case registered against him and put him behind bars. Shockingly, the mother of the molester bribed the police to get him released. Not only did the perpetrator return to the crime scene, the victim, his sister, who was studying at a government school, was expelled.
"We live in a country where the word 'SEX' is taboo. We don't talk about it as it is not considered a part of our culture, yet India has one of the highest rates of the CSA," says Sukhman Randhawa, psychologist with the Mind Research Foundation. "We teach our children to be wary of only strangers. We should also educate them about any kind of unsafe touch whether by a stranger, relative, friend, sibling, or even a parent."
A survey on 12,447 children conducted by the Ministry of Women and Child Development in 2007 found that 53.22 per cent reported having faced one or more forms of sexual abuse. Among them, 52.94 per cent were boys and 47.06 per cent girls.
Wake-up call
"Looking at the statistics, how can one say that girls are more vulnerable? This is not gender-based but 'gender neutral'. We have to save our children, not just girls. Everybody needs to understand the gravity of the problem, and somewhere the entire secrecy and silence needs to be broken because CSA thrives on silence," strongly feels Sonal Kapoor, founder and executive director, Protsahan India Foundation.
The National Commission for Protection of Child Rights (NCPCR) recently launched a five-day campaign titled Jagruk Raho, Chuppi Todo (Stay alert, break the silence), in collaboration with the Delhi Government and Childline Foundation, to raise awareness on sexual abuse of children. The campaign was undertaken in the city around Diwali as it is during this time that children become susceptible to sexual abuse since parents leave them in the custody of others while taking part in festivities.
There is no doubt that people sit up and take notice when a celebrity speaks about his or her personal experiences.
In a profound example of 'Chuppi Todo' (Break the silence), Olympic medallist and Rajya Sabha MP, boxer Mary Kom's open letters to her sons (aged nine and three) made a deep impact on the public. "Let me start by telling you that your mother was molested, first in Manipur and then again while she was out with her girlfriends in Delhi and Haryana's Hissar. I was only 17 years old then and am 33 now. I have brought great fame to my country and have been celebrated as a medalist but what I also want, is to be respected as a woman."
Speak up
Speak up if you don't like the way an adult or elder child is behaving with you is the message that needs to filter through all strata of society, including children.
Apart from the Childline 1098 service, the country's first toll free tele-helpline for children in distress, children can directly report sexual abuse on www.ncpcr.gov.in by clicking on the POCSO E-BOX and selecting a picture that depicts the form of abuse. NCPCR also has a dedicated POCSO helpline number, 9868235077.
"Children are born with an inherent ability to be able to distinguish the good from bad," says Lalita, who works with a child rights organisation. "I started talking about the good and bad touch when my daughter (now 12) was about five. Her first reaction was... that person pulls my cheek and I don't like it. I taught her to learn to say a "no" to that too. We need to listen to our children and make sure they are not around people who make them uncomfortable", she adds.
---
Toll free helpline: 1098
POCSO helpline: 9868235077
Login: www.ncpcr.gov.in
---
Identifying the signs
Frequent nightmares
Sudden change in eating habits
Mood swings
Excessive crying
Clinginess
Fear of new or unusual people and places
Being sexual with toys, pets
Feeling 'dirty'
Provoking conversation about sex
Resistance to getting undressed
Difficulty walking or sitting
---
Dealing with a victim of child sexual abuse
Tell the child you believe her/him.
Praise the child's courage in coming and telling you about it.
Acknowledge the child's feelings.
Don't probe into what/when/where/how of the incident. Let the child share the incident at her/his comfort level.
Tell the child it was not her/ his fault.
Tell the child that you would like to take the help of other adults (family members, institutions, staff members) to help.
Do not make false promises like "I will send the abuser to jail. I will beat him /her up, etc."
Do not question or blame the child – "Why did you not shout for help?" "Why did you not tell me earlier?" "Why did you not fight?"
Remember, it is a child and the abuser is a person known to the child — trusted and loved by the child. The abuser may have even threatened or blackmailed the child into silence.
Do not ask the child to "forgive" "forget" or "adjust".
Top News
In Mizoram, Zoram People's Movement is locked in close race ...
Defence acquisition projects include procurement of 97 Tejas...
India has constituted a probe team to investigate allegation...
Nikhil Gupta, 52, has been charged with murder-for-hire in c...
GDP growth in the first quarter of current fiscal — April-Ju...