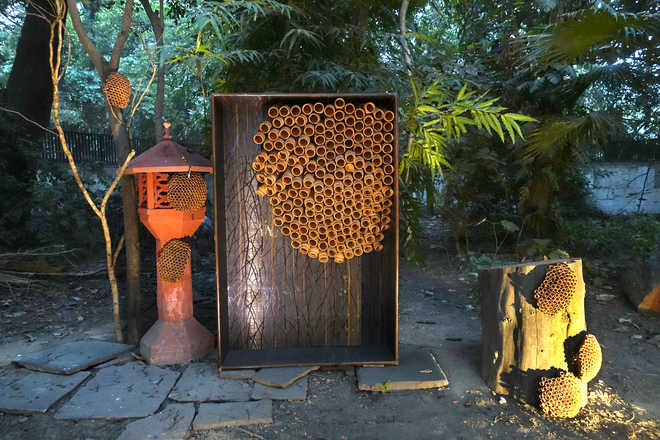 Swati Rai
Manav Gupta's Arth — Art for Earth carries forward his commitment of two decades towards innovation and sustainability. In the installation, he deploys Indian clay objects like diyas, chilam and kulhar and transforms their individual identity into metaphors and idioms of sustainability.
Six installations — Rain, The River Waterfront, Time Machine, Bee-hive Garden, The Bed of Life, and Noah's Ark — form part of this public art display at the Indira Gandhi National Centre for the Arts (IGNCA). Through them, the artist seeks to portray traditional Indian pottery as a metaphor for nurturing the environment in a consumerist society. "In Devanagari, arth stands for 'meaning' and 'wealth'. I have explored both these concepts in the context of our existence on this planet as we use a wealth of earth's resources, the five elements (panch maha bhoot), as well as our meaning and purpose in life while we are here. We all are clay. Dust to dust. My art seeks to submit to this paradigm."
The River Waterfront — An Ode to Ganga seeks to create awareness about the conservation of rivers and their organic essence to our lives. In The Time Machine, the artist engages with time and its transient passage. In Noah's Ark, Gupta uses symbolism to underline the relevance of saving the world. The Beehive Garden Project is a statement on biodiversity and its crucial linkages to sustainable development. The Bed of Life highlights the fact that love is what makes the world go around. The river bed of earthen lamps and earthen cups is symbolic of history, of love, of beginning and the end. Just like the circle of life.
He says his focus is on making meaningful art for the masses. He says people might interpret the works in their own way, but his purpose is to be able to engage in a dialogue around sustainable development through innovative art forms.
Top News
Sane also allegedly told interrogators that he was HIV-posit...
Many local villagers were engaged in illegal mining when the...
A DIG-rank officer to probe six Manipur violence cases refer...
Sports Minister Anurag Thakur had assured protesting wrestle...
Said the rationalisation exercise has 'mutilated' the books ...