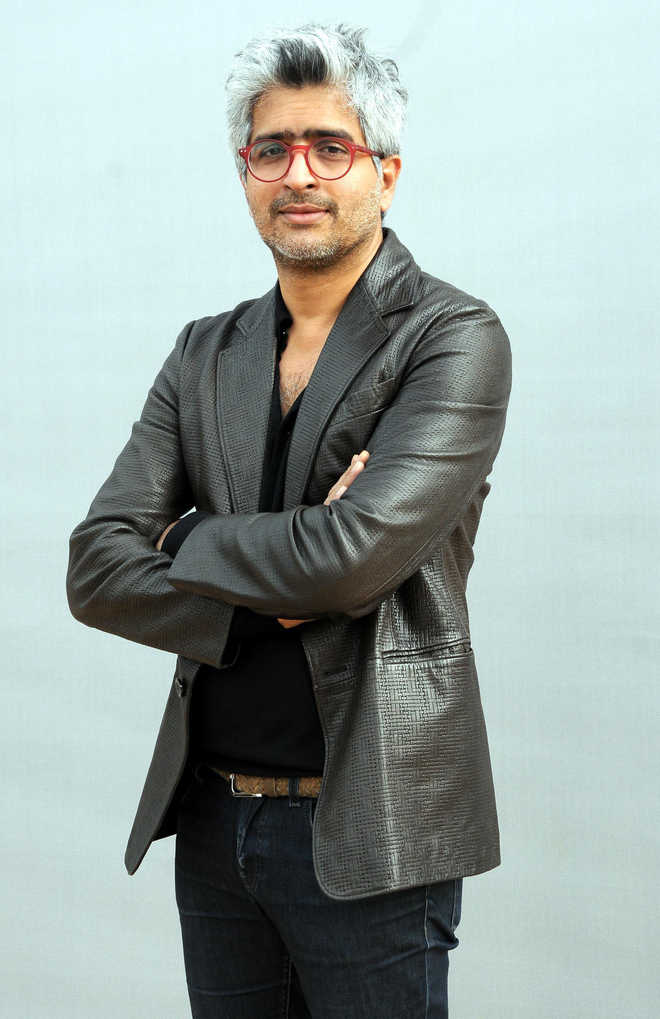 Nonika Singh
He is as much his father's son as he is his own person. Like his father, legendary artist MF Husain, Owais Husain too has moved to the distant lands and is now based in Dubai. Like his father, this youngest son of India's most-celebrated artist has made a mark by his own dint and developed a signature style. And just like him, there is no stopping his train of thoughts. However, by no stretch of imagination is Owais an extension or shadow of his father.
The obvious queries of being influenced by the man who has impressed generations do leave him a tad irritated, but not peeved. "Why talk of him alone? There are many incidents in my childhood, many personalities, including my mother, or rather her absence, which shaped me," he says. And there is one that he singles out: Chester Herwitz, his mentor.
Not the one to toe any beaten track, Husain's reasons for moving to installation art too have little to do with anything else but for the fact that he has always been uncomfortable with comfort zones.
Besides, he feels installation art allows him to express in many languages and speak in many voices.
He says he has "not just one story to tell" and the poet, the artist, the photographer and the filmmaker in him come together to create works that deal with what he calls urban mythology. Before we raise eyebrows at what seems like an oxymoron, he explains, "Myths do not necessarily belong to history. You and I can be myth too. Anything that is not fully explained or understood is a myth." Indeed, unless factual evidence collates with imagination, it never can capture the mystique of art.
Artists are storytellers and cartographers, but are they mirroring change at a precise point, we wonder… "Artists are always in the vicinity of the real world even when they are painting a pink sunset or a bouquet of flowers. At times, they could be ahead of their times; at others, slightly behind, but they are always lurking close by," says Owais.
As he looks at the urbanscape, he says he is struck by how man is a migratory animal and migration for this artist, who shuttles between Mumbai and Dubai, is not just physical displacement. "It could be cultural, linguistic, material; a shift in one's value system. Thus, it's not important where you are. World is a fountain and you don't have to be at the origin of it to make sense of it."
Owais reminds that even Mumbai, the city that he grew up in, is a "migrant's dreamland". As a child, he would roam its streets in the dead of the night. As a young boy, he was quite a rebel, who nursed dreams of living on the outskirts of Santiniketan and becoming a hermit artist. After graduating from Sir JJ School of Art, Mumbai, he learnt printmaking from influential Indian artist Jagdish Swaminathan at the Kanoria Centre for Arts, Bhopal, and from Robert Blackburn at a printmaking workshop in New York.
Today, the artist might sway with the flow, but his mind is ticking in multiple directions. "I may not be doing 17 things at the same time, but I definitely do different things," he says. And filmmaking is one of the many rooms in which he lives. He assisted his father on his films Gaja Gamini and Meenaxi — A Tale of Three Cities and is now making a documentary film, Letters to My Son about My Father, on his father. However, the film will have to wait for sometime as he feels in a different zone right now. What can't is the rush of poetic thoughts that invariably becomes part of his exhibitions, including the one that is going on at the Institute of Contemporary Arts, Singapore.
"There is a doubt that roams listless and deep somewhere in the folds of my body," feels Owais and says that only when this niggling doubt translates into the visual lexicon, do you get an array of images, works and thoughts, reflections on and of identity. Like in the Heart of Silence, a complex and abstract multi-media installation, where large suspended paper houses play with light and reflection; or acrylic panels layered with photographic images and paintings surrounding fragments of terracotta figures in a Fleet of Ships.
Determined to outline his language — whether in Room of Whispers or Three Worlds — for every horizon that he leaves behind, Owais charts another one… of imaginary homelands and cultural identities, all the while cementing his identity as a contemporary artist of considerable repute.
Top Stories
Class XII boards postponed | Remdesivir production to double