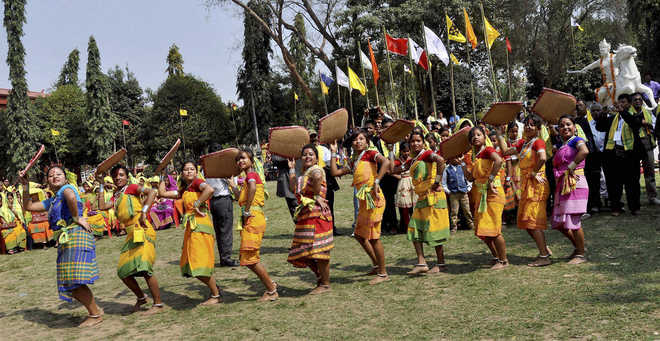 Kavita Kanan Chandra
There is much joie de vivre at the Kawant fair, a prominent tribal festival where Rathwas and Bhils congregate in the north-eastern part of Gujarat. Celebrating the harvest season, the spirited dance accompanied by rhythmic drumbeats expresses exuberance of life. Adorned with an array of peacock feathers on head, they paint their faces with dots and circles with rice paste paying salutation to the feline family of the fauna of their forested abode. The primordial dance resembles the movement of animals and trees with nature in its soul. Even the colourful Pithora mural paintings that brighten up the inner walls of their humble huts based on traditional beliefs prominently show horses, elephants, birds and tigers.
Elements of nature are writ everywhere in the cultural and social lives of not only the Rathwas or Bhils but the entire tribal population of the world. The lack of formal education for many indigenous people notwithstanding, their inherent knowledge and understanding of the ecosystem and the factors that sustain them is unparalleled.
Even the United Nations recognises their contribution to improve world issues like environment protection, etc. August 9 has been designated as 'The International Day of the World's Indigenous People' by the United Nations to promote and protect the rights of indigenous people. Though marginalised by the mainstream society, we could take out a leaf from the tribal celebration of mother earth and its environment.
Our Constitution identifies indigenous people as "scheduled tribes" and they are generally referred to as "Adivasis". According to 2011 census, their population is more than 104 million and they constitute 8.6 per cent of the total population. The tribal population in India is that of hunter-gatherers, practice shifting agriculture, artisans, agriculturists, artists and some are in service.
Most of the tribal community lives in proximity to nature and have deep reverence to their ecosystem, which is reflected in their art, craft, music and dance.
The North-East has the most colourful and culturally endowed tribal population in our country. The Bodo, Kuki, Nyishi, Adi, Angami, Naga, Rengma, Bhutia, Garo, Khasi and several others live in the North-East. Their rich culture, creativity in arts, crafts and traditional dances are beautiful. Abundant in bamboo and endowed with a rich bio-diversity, nature is an integral part of their existence. Each tribe is known for its weaving and distinct motif or pattern of weave. At the Hornbill Festival of Nagaland, one can watch and experience the cultural bonanza of music and dance presented by several tribes of the state.
The Santhal, Munda, Oraon, Ho, Birhor, Sauria, Lohra among many others are the sons of soil of Chhota Nagpur plateau, spanning the states of Jharkhand, West Bengal, Orissa, Bihar and Chhattisgarh.
In Jharkhand, the Sarhul festival is the worship of village deity as much as the blossoming of new flowers in Saal trees during the spring season. The ebullience of tribes is embodied in the sprightliness of their dance to the beats of dhol, nagara and turhi.
The sohrai and khovar paintings on walls of huts in Hazaribagh district and jado patiya scroll paintings in Santhal Pargana of Jharkhand are inspired by nature and done with natural colours.
The craftsmanship of Dhokra artists of Chhattisgarh and Malhor from Jharkhand has won many accolades. The craft captures mythological deities as well as animals and the mahua tree, very sacred to the tribal. Similarly, the Gond art by the Gond tribe of Central India is inspired by nature and traditional customs. The painting is, however, done like the tattoos in earthy tones and bright hues with a series of dots and dashes arranged into forms of animals, streams or trees.
One can find interesting graphic art by Warli tribe of Maharashtra on their mud huts. They use circles (sun, moon, tree, hills), triangles (human)and squares (manmade pursuits) made with rice flour paste. The embroidery done by Toda tribe of the Nilgiris is also unique as they are inspired by nature but done in black and crimson on white background in geometric form. They even have geographic indication for it.
The tribes co-exist with nature but those like Maldharis of Gujarat and Bishnois of Rajasthan are exemplary in their conservation of nature and compassion for animals. The abundance of lion population of Gir in Gujarat is attributed to the Maldharis, who would never harm lions. The Bishnois are pure vegetarians. The extent of their compassion is such that they do not cut branches of a tree even for fuel but collect only the fallen twigs or remove dead trunks. They are very principled when it comes to conservation of nature.
With distinct music, dance, attire, cuisine and arts & crafts, there are very few similarities between the tribes of India. However, what is common is their belief in tradition and simple living in tune with nature that has remained almost unchanged through the passage of time.
Top Stories
Bhagwant Mann is AAP's CM candidate for Punjab polls
Arvind Kejriwal announces his candidature
Bhagwant Mann a compromise candidate for AAP: Sukhbir Badal
Says today's event a desperate PR exercise to make Mann acce...
Illegal sand mining: Enforcement Directorate raids multiple locations in Punjab, including that of CM Channi's relative
19 locations in the state are being covered
ED raids on CM's kin an assault on Punjabiyat, voters will answer: Congress
Surjewala, Harish Choudhary allege Modi-Kejriwal tango in Pu...
Arvind Kejriwal targets Charanjit Channi over illegal sand mining following ED raids
The AAP supremo was speaking to the media in Chandigarh