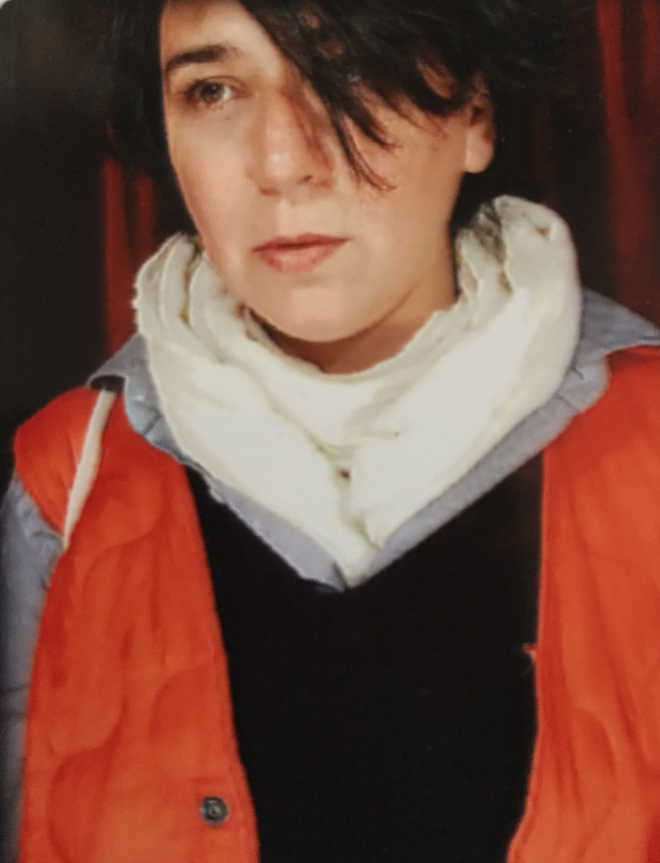 Sarika Sharma
Sarah Singh's teenage years were spent "obsessively" watching old Hollywood films from the 1930s and 1940s. She fell in love with the black and white worlds they created. MTV had just started in the early 1980s and, to her, those music videos were like miniature experimental films that broke rules of the visual language.
Born into the royal family of Patiala — her father Shivdev Inder Singh being Capt Amarinder Singh's uncle, she is today breaking rules herself. Her first feature film, A Million Rivers, stars veteran actor Om Puri and actor and theatre personality Lillete Dubey. The film traces its inspiration to those impressions from teenagehood. Here, she plays with black and white and explores Bertolt Brecht's 'alienation effect' and the notion of expanded cinema in the film.
Sarah was very young when her family moved to the US. She got to know India better when she came here in the early twenties and felt completely "seduced" by it. "Being in India allowed me to connect with something deeper. The contrasts between my two worlds sometimes created obstacles in my sense of self, but over the years, it has become more of an opportunity to establish a unique identity," she says.
At age of seven, she held the camera for the first time. Ten years later, she owned one. She had begun capturing the world — people, places, shadows. Both in colour and in black & white. However, she took to filmmaking only in her early thirties and it wasn't easy. "You can't be an introvert and work in film, so I had to toughen up a bit before shifting from painting (a solitary activity) to filmmaking (working with people)."
Her first film, The Sky Below, was widely acclaimed. A documentary film on Partition, it struck a chord with the audience. Sarah says people were drawn to the "neutral" way she handled the contentious and emotional topic. She takes pride in the fact that for students on both sides of the border, it became a window into the other side of history; brought them a glimpse into what their textbooks had edited out.
A Million Rivers, her first feature film, premiered at the Victoria and Albert Museum in London earlier this year. It is a take on Partition again. However, here the shift is more on the Kashmir and India relationship. "Thematically, it is directly derived from the legacy of Partition, which includes fragmentation and crisis of identity within an individual; the breakdown of family; aggression towards women; the violence of men over one's self and the landscape; and the construction of a new identity. I transpose that political and geographic topic on to an abstracted fictional framework that subverts reality and in doing so, creates a hyper-reality."
Do the two films meet, we ask… Sarah says both yes and no. "The two films create different ways of dialogue around zones of conflict and identity within a particular landscape. Both are stylistic examinations of a place that has experienced great trauma, but while one is a direct approach, the other is indirect. A Million Rivers furthers the conversation that was started in The Sky Below. This was a natural progression and my intention."
To her, the ramifications of Partition continue to be not only painfully relevant, but increasingly so. "This regional problem is rippling throughout the world in dangerous ways. Geographical conflicts that continue for decades are bleak reminders of the need for deeper conversations," she says and adds, "As long as vested interests control the narrative, the losses over these decades will continue to be in vain."
To tell her story, she chooses black and white. That is her idea of India. Sarah says most people think of South Asia as overwhelmingly saturated with colour. "I wanted to present South Asia very differently, as a quiet psychological landscape." For her, black and white is about deciding what gets revealed or hidden through light or shadow.
"Black and white also helps to suggest an open sense of time. This fluidity creates a feeling of timelessness or something cyclical. These are important themes to me," she says.
We ask her if there is an audience for a "different" film like A Million Rivers in India… and she says the film is partly an examination of the cubistic repercussions of power, particularly related to Kashmir and India. She insists there is no better time than the present to add to this conversation.
Even as she presents her work before the world, she is on to her next film that would be shot in Germany. She says it would star some of the world's most interesting actors, including two from India. Would you catch her documenting cousin Amarinder Singh's campaign early next year? "For sure, if time permits," she says.
Top News
He said people had not elected him to listen to 'hate speech...
Lok Sabha Speaker warns Bidhuri of strict action
India has also lodged a strong protest in New Delhi and Beij...
No 'special exemption', says Biden adviser
Tensions flared between India and Canada early this week fol...