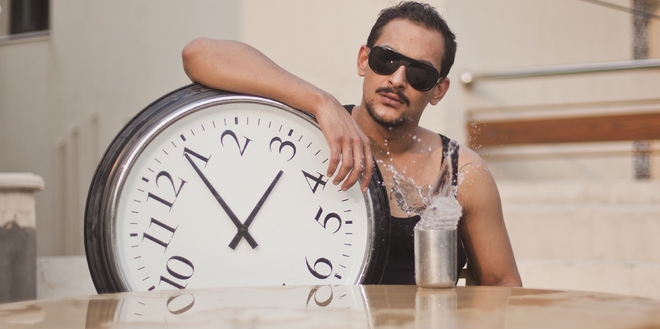 Amarjot Kaur
Here is a voice from across the border that questions the silence, which cradles the cries of the helpless in his country. While he employs heavy undertones of dark sarcasm to mock the fear of bombs, corruption, religious exploitation and terrorism in Pakistan, Lahore-based rapper Faris Shafi's lyrics stir the heart, just as intensely as they shake the soul. About his concern over social issues, Faris Shafi says, "They banned Muskura, which is one of my three songs and my inbox was full of hate mails. Pakistan is going through a political turmoil and issues that are sensitive to the interests of common people must be addressed," says Faris, who seeks inspiration from the writings of his maternal grandfather, Hameed Akhtar, who has been awarded the Presidential Pride of Performance Award in literature. Also, he is the brother of singer-actor Meesha Shafi.
"Affluence can be dangerously blinding. I remember, when as a kid, I'd say to my grandfather that the motorcyclists don't know how to drive, he would reply — put yourself in his shoes and try to understand where he is coming from," reminisces Shafi, sharing that he spent most of his childhood in the company of his grandfather, a well-known social activist, columnist, poet and writer.
"He was born in Ludhiana of British India," adds Faris.
Besides the socialist ideology of his grandfather, rap music and rappers like Tupac and Snoop Dogg also heavily influenced the 27-year-old rapper.
"Rap music, before it was hit by commercialisation, was a quite a revolutionary phase in music as it expressed the anger and issues of the oppressed community," he says. However, when questioned about the explicit content in his songs, Faris offers a radical perspective that justifies his expression. "Have you ever been to a chai stall or a tyrewala shop and heard the common man talking about terrorism, price hikes, intolerance and corruption? Abuses have become a part of common man's everyday conversation. So, when I am talking of protests and paint a picture of the social ills that have eaten into our society, I cannot be a hypocrite about it," he says. Also, in a few of his songs, as he makes use of explicit words to express his intolerance towards injustice and religious hypocrisy, Faris unabashedly criticises the political setup of his country, mujras, gender discrimination and jihad.
"Nowadays, any religious leader will keep a beard, wear a hat, claim to be pious in the name of religion and disgorge messages of hate and violence. I question the double standards in our society because I feel strongly about it," he says.
Though Faris has not been able to mount his songs on any record label yet, he has already got more than 3,00,000 views on the YouTube video of his first song, Awaam that elaborates on issues like load-shedding, economic crises and jihad. Also, his song, Jawab De, which was released two months ago, questions the plight of the political and social functioning of his country. Faris shares that he was motivated to rap in Hindi and Urdu because of Bohemia, whose creative calibre he admires. However, on Honey Singh, he shares, "Anyone who knows rap music knows that Honey Singh doesn't rap. He makes club music, which is selling well for him. Rap, however, is poetry in rhythm," he signs off while sharing that he will soon be releasing his new song, tentatively titled Dance this year in December.
Top News
Former PPCC chief addresses media outside Patiala Jail
Metropolitan Magistrate Sanya Dalal has posted the matter fo...
Karan says happy to see father coming out of jail, last 10 m...
Bhagwant Mann says it is the eighth toll plaza shut down by ...
Dyal Singh, 35, was killed on the spot