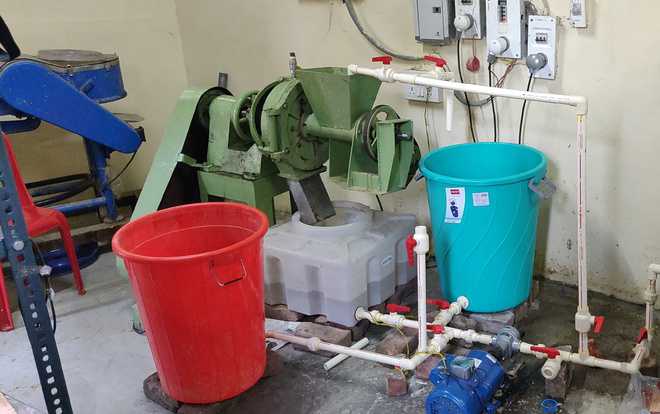 Swati Dey
Winter is arriving, so is the season of festivities and the days of pollution in Delhi. The Delhi government has devised an action plan to combat the problem — it includes laser shows to encourage people to avoid firecrackers, plant tress and the rolling out of odd-even policy. Meanwhile, a few young, bright minds are also trying to chip in with some innovations in the fight against pollution. One of the major contributors to the accumulation of smog and toxic air in the National Capital Region is the burning of stubble in the neighbouring states. To help the NCR residents breathe easy, three Indian Institute of Technology (Delhi) alumni, Ankur Kumar, Kanika Prajapat and Pracheer Dutta, have devised a technology to convert rice straws into biodegradable products.
It was a trip to Chandni Chowk on a smoggy evening in October, 2017, that prompted the trio to think up a solution to combat the suffocating smog. "The PM 2.5 level was above 450. It was tough to be there, our eyes were burning and throat choking," recalls Dutta. On enquiring why paddy stubble is burnt, they learnt that while the wheat residue could be used to feed cattle and there were buyers for it, the paddy stubble was a waste due to constituents like silica and the lack of technology to deal with it. Inspired by their final year project on paper-recycling, under Kriya Labs, a start-up incubated in the institute, the trio designed a technology to transform tonnes of agro-wastes — that would have otherwise turned into pollutants — into biodegradable paper, tableware and packaging materials.
"Twenty million tonnes of rice straws are burnt only in Haryana and Punjab," says Dutta, adding that their plant can convert 70-80 per cent of this waste into biodegradable products. The team is transforming their technology into zero-waste by using lignin, a by-product, as manure or a raw material for tiles. After running a pilot unit in the institute, they are planning to start a commercial plant, worth Rs 1-1.5 crore, in Sonepat. Also, the founders aim to set up smaller units close to several villages, to be run by the farmers' community, to reduce transportation cost and employ locals. "After running the Sonepat plant for some time, we intend to seek states' help to increase the scale of our operations," says Dutta.
Soot to ink
For Arpit Dhupar and Kushagra Srivastav, an IIT Delhi alumnus, a visit to the diesel-fuelled sugarcane juice shop turned out to be a Eureka moment. The duo, later joined by Bharti Singhla, an IITian, founded Chakr Innovation, and their first creation was Chakr Shield, a product that captures emissions from diesel generators, cleans out the pollutants to get soot. The repurposed soot, after ensuring it is fire-resistant, is used as ink and paint.
"We are capturing PM 1, which is finer than PM 2.5 and can't be filtered by our nose or lungs. It goes straight into our bloodstream," explains Dhupar, who suffers from breathing issues in winters. The technology comes in various sizes, and hence fits easily into different kinds of generators. The cost is 10 to 15 per cent of the generator, claims Dhupar.
Making events waste free
Tamanna Sharma (28), founder of Earthling First (EF), offers waste management solutions for all kind of events. Her company focuses on preventing waste generation, most of which is non-biodegradable and non-recyclable, and its burning or dumping in landfill or water bodies.
The activist-turned-entrepreneur plans events — from meeting and conferences to weddings and concerts — in a way that waste generation is negligible. She promotes use of eco-friendly materials for catering, decoration, etc.
Affordable air purifier
Just 18, Krrish Chawla has invented an air purifier that costs around Rs 2,000 —around ten times cheaper than regular purifiers. For asthmatic Chawla, a student of Modern School, pure air is non-negotiable. One day, he opened up the air purifier at home, and felt he could manufacture a much cheaper version. With the use of advanced H-13 HEPA filter technology, the air purifier, Breathify, removes up to 99.97 per cent of harmful pollutants, as small as 0.3 microns. The filters made of glass fibre last over 1,500 hours. In a year's time, Chawla has got 500 users for his air purifier, he claims.
Top News
7 others, including Ahmed's brother Khalid Azim alias Ashraf...
Writes to Mohit Rajan, Deputy Secretary in the MS Branch of ...
Amritpal's counsel on the other hand contended that he was i...
The earlier date for this was March 31
Sukhwinder Singh ran a finance business in Manila for the pa...