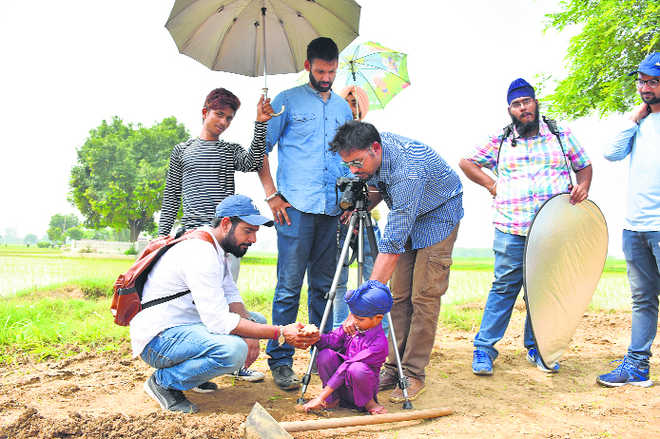 Nonika Singh
In a short span of five years Ojaswwee Sharma has made as many as 18 short films several of which have been selected for prestigious film festivals. His latest Zubaan was showcased at Vancouver International South Asian Film Festival.
All of 21, Jayesh Jaidka has already made four short films. His latest, Mussorie Breeze, delving into the problem of depression has made it to the prestigious Delhi International Film Festival that starts tomorrow.
Seasoned theatreperson Sahib Singh has found a financier for a series of five short films, two of which have already been made. Sulghadi Mitti, with nearly one million hits on YouTube, was recently screened at Ludhiana Short Film Festival.
Shree Warang has just finished his first short in Hindi and Marathi.
The list is endless — of amateur, struggling and established filmmakers trying to find a place under the sun— and is growing by the hour. And what better way than short films, where this interesting format, diminutive in size but not in reach, and a torrent of new ideas and new makers are ready to take the viewers by surprise.
Call it the T20 of films, this creative byproduct of technological marvels that has democratised filmmaking, short films are enrapturing viewers of all ages. Young, not so young and even veteran directors, are bitten by this creative bug.
No film festival, big or small, is complete without these. Some festivals are even dedicated to them. If big players are jumping into the fray only too eager to pitch in with both finance and infrastructural support, closer home Ludhiana just organised the third edition of a short film festival. As the festival received nearly 80 entries, that too mostly in Punjabi, Pardeep Singh, whose brainchild the festival is, can't help but smile, "Till the other day filmmaking was a guarded bastion of big filmmakers. Today, it is an open field even if it is not a level playing one."
But is it advantage youth? Are short films for the youth, by the youth? Strictly speaking, perhaps the answer is no. However, the realm is wide open to newbies. While earlier makers would spend at least a quarter of their lives learning the ropes of filmmaking, today youngsters like Jayesh have imbibed even the technical rules of editing from YouTube. Besides, the medium is certainly aimed at the younger generation whose attention span is as short as the format. The millenials are known for losing patience as fast as their familiarisation and ease with technology is growing.
With mobile phones fast becoming the new stage, short films seem to be the perfect way to attract viewers and showcase one's creativity. The experimental edge and wide choice of subjects that the medium makes possible lends it even greater potency. While mainstream cinema is still hemmed by commercial constraints which forces it to tread the tried-and-tested path, short films can venture into any realm. It gives Jayesh the freedom to make a film on the Bluewhale challenge.
Ojaswwee has the creative liberty to plumb into the psyche of theatre-persons who continue to plod even in the absence of tangible rewards. He also wonders whether a film like his latest Zubaan about witness protection programme, still not an Act in India, is possible in mainstream cinema. Sree can offer a layered narrative of greed.
Pradeep calls shorts "an extension of journalism" and says that most short films come laced with a message. Majority of films that they received for the festival dealt with topical subjects like drug problem, female feticide et al. Sahib's Sulghadi Mitti, too, focuses on dilemma of brides left behind by NRI grooms, a subject that Punjab is only too familiar with. But whether topicality of the subjects works in favour of the medium or not, he isn't too sure. Often like journalistic reports, shorts, too, run the danger of just scratching the surface and not delving deep enough.
However, one thing is clear; short films are neither masala entertainment, nor gyaanbaazi for that matter. Add to it what Jayesh says, "Today, no one wants a drawn-out play of entertainment lasting for two hours or more. All they want is the gist, the crux of the issue at hand, told in the best entertaining way. Today's generation wants a takeaway and not a sermon." So, as he is putting the finishing touches to his next film on water conservation, he has chosen the thriller genre to package a burning issue.
Getting the viewers to click on the press button of the film might be easy. But ensuring that they stay with you is an onerous task. Writing has to be precise, concise, snazzy and sharp. For it is a crucial clincher. The fact that right now short film content is available to the viewers for free, too, hangs like a Damocles sword. Anything that come gratis is rarely valued and losing perennially distracted viewers in real time is a gnawing reality.
To keep viewers hooked, makers often opt for the genre of thrillers/ comedy and even easier, sex it up. Sahib Singh feels, "In the absence of censorship, many are tempted to peddle sleaze and many a shorts border on double XX films."
To attract viewership, some rope in stars for which, of course, they have to have the right connections or just plain luck. If well-known actress Richa Chaddha had not lent her name to Khoon Aali Chithi, probably the film would have sunk without a trace.
Owing to its popularity and reach, big ticket producers, directors and film stars are ready to invest in the medium. But the point is can short films exist independently, outside of Bollywood influence? Technically and hypothetically, yes. The success of innumerable short films, both, at the national and international festivals, is proof enough that short films certainly have created a niche. But whether film makers would remain content with making short films alone remains doubtful.
Be it Ojaswwee, Sahib Singh or even Pardeep…they are certainly eying the bigger picture which means the silver screen. So will short films remain a mere stepping stone and nursery for artists to flex their creative muscles before they find their true calling on a bigger canvas? Pardeep avers, "Well, shorts will always serve many purposes and one of them will be as a feeder to other industries." Indeed, short films, too, could become an industry. Undeniably, short films have a bright future… The Indian Motion Pictures Association has begun to even register short film titles. Television channels are inviting content.
The present, however, is still in the making. As Ojaswwee puts it, "We are a developing country and same is the status of our short films." But yes, given the diversity of our country, stories and ideas that essentially drive short films, these will never be in short supply. How many of the players stick in for a long innings and how many call it quits or move to greener pastures remains to be seen. But as of now it's exciting and igniting creative minds, providing them an opportunity to put their names out there. Jayesh's short film in which he acts too opened many doors which led to an audition test by a big production house.
Many will get noticed and many might just fade away. But rules of engaging audiences are changing for sure. The commerce of it might too. Who knows Pardeep's euphemism, "these will make more money than commercial cinema," might prove prophetic. Provided the creative fraternity guards against what Frank Capra called the cardinal sin of dullness.