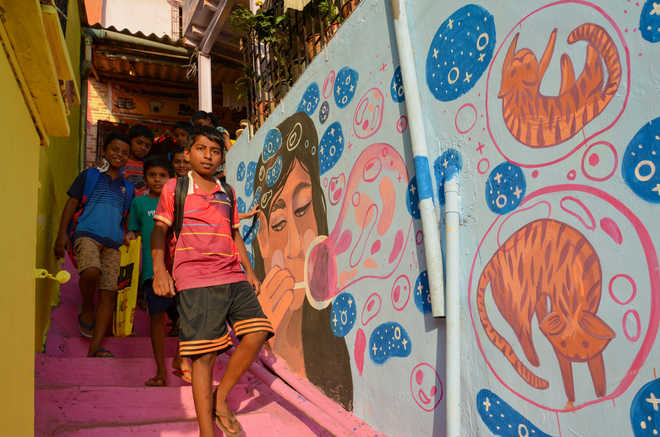 Swati Rai
As they make their way to work, residents of Asalpha village in Ghatkopar, Mumbai, delight in art every day. Adorning what were once drab and dreary walls is street art that has treated the village like one big canvas, totally transforming this part of Maximum City.
The initiative called Chal Rang De is aimed at dusting away stereotypes with paint brushes. It is a collaboration of Fruit Bowl Digital with Mumbai Metro One, Snowcem Paints and Co.Lab.Oratory Asia. The idea was to change the perspective of urban slums by painting 120 walls of Asalpha village in different colours in a span of three days.
A social media call was sent out, to which more than 1,800 people responded. Very soon, the walls of the village were painted in bright hues. The event was a resounding success and left the residents and spectators amazed. In the second phase, the group has taken things one step further by bringing together professional artists with unique styles.
Fifteen artists have now converted the walls into canvases, with a vision to make them to speak directly to the people of Mumbai. They have turned the walls of the slum into portrayals of its people and their life. Asalpha village stands revamped into an outdoor art gallery that celebrates the bright future of Mumbai and its residents.
Dedeepya Reddy, founder of Chal Rang De, shares, "It started as our aim to change people's perception of the city slums while also spreading happiness through art and colour. Mumbai, as a whole, has so many tales to tell in so many different ways and we just wanted to provide a platform for the local talent to tell theirs, while also giving the community the attention and identity it so rightfully deserved."
The excitement of the volunteers could only be matched by that of the residents. "They were more than eager to lend a helping hand and were nothing but appreciative of the end result, with some of them even extending special requests to the artists working in their lanes," says Reddy.
Choosing relevant themes and colours was another key aspect of the project. The colours were kept vibrant to resonate with the emotions that the project wanted to highlight and the styles and the designs complemented the neighbourhood.
The project, shares Reddy, intends "to take the spirit of Chal Rang De across the city, and eventually to every corner of the country." The future surely looks colourful and, yes, participative.