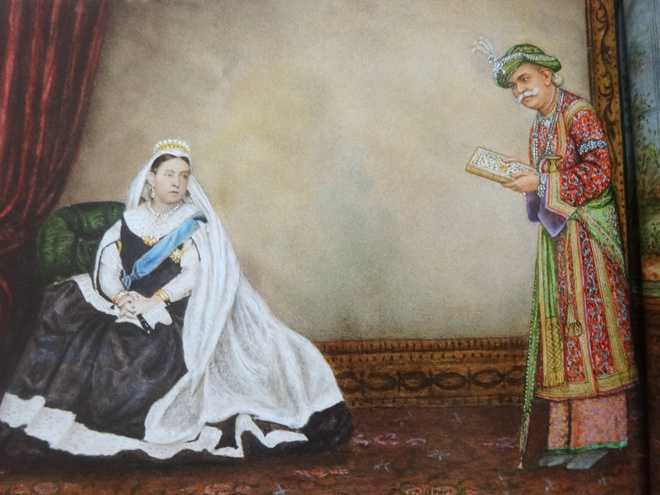 BN Goswamy
With all that one had been reading in one's childhood about Victoria, the 'Malika' who occupied the throne of England from 1837 onwards for more than 60 years, and whose busts used to dot the squares of city after Indian city once, I was quite interested in the section on her in the rich exhibition — my 2nd in a row — that I saw at the Queen's Gallery in London not too long back. It was named 'Eastern Encounters', and focused on 'Four Centuries of Paintings and Manuscripts from the Indian Subcontinent'. A large number of works, which were on display — folios from the great Shah Jahan period Padshah-nama, for instance; a Pahari series on a section of the Bhagavata Purana; an album from Lucknow — I knew from before. But there was something different in a chapter in Emily Hannam's book for the exhibition: she had titled it as 'Gifts for the Queen Empress". "Rulers from across the world", it began, "including several in South Asia sent letters and gifts to the young queen on her accession … Two months after her coronation, the Queen showed her Prime Minister, Lord Melbourne, a list of the presents she was to receive from the ruler of Muscat". She also spoke to him — the note was in her diary which she kept writing for long years even afterwards — "I said I liked to show a disdain for these things, for fear I should be accused of common female weakness ..." But, disdain and all, there was no getting away either from receiving, or sending, gifts. Certainly not as the Queen of England. She was able to discourage the practice of receiving extravagant presents from 'subject princes', and others, but paintings, manuscripts and books kept coming in.
One of the earliest presents that the Queen sent out was to Ranjit Singh, 'Maharajah of the Punjab', and it was done at the instance of the highest officials of the East India Company who saw value in maintaining good relations with the Maharaja. What she chose to send, obviously under advice, were five horses 'of the Gigantic Breed which is peculiar to England', and a carriage. But the gift did not go down well. An Austrian visitor who happened to be in Lahore at that time had this to say about it: "To send four brewer's horses and a monstrous dray horse to a prince who had a peculiar fancy for the most elegant saddle horses, is something like giving a man who loves rare flowers which adorn his beautiful hot house, a cart-load of potatoes". Other things, like this, happened too. Emily Eden, a talented painter and sister of the Governor-General of India at that time, made a copy of a portrait of the Queen which was put in a very expensive precious-stone encrusted golden frame and carried as a present to the Maharaja. Emily, herself present at the time that the gift was brought into the meeting place, wrote about the ceremony that accompanied the presentation. As soon as it came in, she says, all the English gentlemen got up, and a salute of 21 guns was fired. "Runjeet took it up in his hands", she wrote on, "though it was a great weight, and examined it for at least five minutes with his one piercing eye …Then he said it was the most gratifying present he could have received and that on return to his camp the picture would be hung in front of his tent, and a royal salute fired." While this was what Emily Eden noted, Henry Fane, the aide-de-camp to the Commander-in-Chief of the British army, recorded the event rather differently. "I do not think he (the Maharaja) quite understood it, but seemed to think Her Majesty made a very decent Nautch girl". A short while afterwards, one knows that the Maharaja had given the portrait of the Queen away to one of his courtiers.
This is the way the chapter goes on, recording occasions and responses, gifts received and sent. We have images of highly regarded rulers making presents in person: like the Maharaja of Benares, Ishwari Prasad Narain Singh, presenting to the Queen, a sumptuous book: his translation into Hindi of the Queen's Leaves from a Journal. Everywhere there were addresses elegantly written and beautifully illuminated. There is a painting by Ravi Varma of an attractive Malabari maiden carrying a platter with a 'Jubilee Address' placed on it and meant for presentation to the Queen. And there is a reproduction of an 'address of loyalty' presented to her by the Maharaja of Jodhpur, which states in verse that while among the Hindus it was Rama who was the ideal king, and among the Muslims, Akbar, there has never been a 'chakravarti' like you, O great Queen, for in your 'Raj' there is such peace that 'the lion and the goat come to the same ghat for drinking water'.
What intrigued me most, however, in this chapter were two things, both of them in the hands not of anyone else, but of the Queen herself. One, two pages from 'the Hindustani Diaries' of Victoria in which she is practicing writing Urdu. The writing is pretty poor but one can make out many words, distorted and ill-formed as they are. "Raat ko barf bahut giri", for instance. A sentence in Urdu and then its translation into English, for clearer understanding. Clearly this was done under the tutelage of her Agra-born Indian munshi, Abdul Karim, whose very presence in the royal household, and closeness to her, was something that caused a scandal. Second: a water-colour painted by the Queen showing Duleep Singh, Maharaja Ranjit Singh's son, and her 'favourite prince', dressing Prince Arthur — the Queen's grandson — in Punjabi attire.
All said and done, there is something quite heartwarming about these.
Top News
Action taken under relevant Section of Unlawful Activities (...
Says wants it to commit constructively to establish facts
Blinken says it is 'important for India to work with the Can...
Harpal Cheema responds to Governor Banwarilal Purohit's lett...
Pawar and Adani first inaugurated a factory at a village in ...