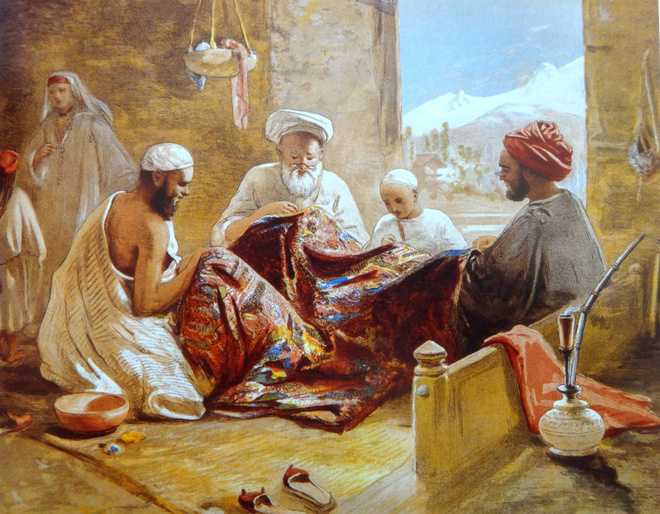 B.N.Goswamy
Who else than Anne Morrell could have written a whole book on textile fragments, and what other institution than the Calico Museum of Textiles in Ahmedabad would have kept garnering, as a part of its dazzling collections, just these fragments for years together? But here it is: the result of a long collaboration between scholar and institution in the form of a beautifully brought out book: Embroidered & Stitched Textile Fragments from Kashmir in the Collection of the Calico Museum of Textiles.
Anne has an obsessive interest in textiles, someone who cares "more about the journey than the outcome" when she works. One of the iconic figures of England in this field, she has been a teacher for long years: a Professor of Textiles at the Manchester Metropolitan University, and Head of Embroideries at that place; she has not only taught but has also been exhibiting her contemporary work 'on four continents', which, as a reviewer said, 'crosses the boundaries of art, craft, applied art, and more'.
Over the decades, her creative thinking 'has broken the boundaries of textile terms and definitions', experts agree. But here in India, as a researcher and teacher, she has stayed more or less at one place: the Sarabhai Foundation in Ahmedabad from where she has brought out landmark studies, now on embroidery techniques, now on structural sewing terms; she may be at 'kantha stitches' today, but will turn to do a whole monograph on buttons and ties and shells the next day. Phulkaris from the Punjab are as much within her ken as is applique work from the northeast and south of India. Occasionally, however, but only occasionally when she gets the time, she sits at home in her garden looking up 'at the sky and clouds' to 'inform the linear movement' in her compositions.
In this book, she takes her reader/researcher to Kashmir and makes everyone look closely at fragments: from shawls and rugs and other stitched textiles. In her Introduction to the volume, she gets straightaway, without any fuss, into fabrics and stitches, leading us now into the intricacies of Stem Stitch and Fly Stitch, now into those of Chain Stitch and Satin Stitch. And when you get drawn into the subject, she can also make you wonder, along with herself, at the use of the term 'Roman Stitch', which might in fact come from 'Roumania', for all one knows.
To cite just one short passage from her: "When observing people stitching there," she writes, "there have been occasions that I have seen a stitch being formed in a way I would not have imagined. One such stitch is a form of Roman Stitch. When working in Kutch in the late 1980s I saw Roman Stitch worked very differently and no way could I have guessed that the stitch started with a Single Chain Stitch. It could be this method, pulling back a Single Chain Stitch… In Kutch I have heard Roman Stitch called Kashmiri tanko." Little wonder, in this context, that she also wrote, some ten years ago, a monograph on 'The Migration of Stitches and the Practice of stitch as Movement'.
Page after page in this book is filled with images of fragments, some details taken from very close. All too aware, however, that her reader might not want to get embroiled in stitches all the time, she brings into the book some delightful visuals that establish the contexts in which the finished objects were produced, used, savoured. At one point is reproduced a rare photograph — a stereoscopic image in which the same scene is printed twice, side by side, for providing depth in viewing when seen through a special device — that goes back to the Victorian times. The caption of the image — "Humble shawl-weavers at Cashmere patiently creating wonderful harmonies of line and colour in India" — is printed at the bottom of the image. But there is also a long text printed on the back of the stiff grey board on which the twin images are pasted, explaining what is going on in the photograph. "This is the interior of a small house in the city of Srinigar (Cashmere). The man with the white puggaree is the proprietor and overseer of the establishment.
The others (father and son) are his employees. …See what a multitude of little bobbins of different coloured wool lie there under the workers' hands. The stuff was all dyed here in Cashmere with vegetable colouring stuffs whose formulae were an inheritance from generations of past workers. Some of the most exquisite colour combinations known to connoisseurs in textiles have been produced by such humble craftsmen working on just such primitive looms as this."
Then, Anne brings in, roughly from the same period, a superbly coloured lithograph by William Simpson, showing 'Rafugars' — not darners as one might understand the term today, but those who did and supervised the finishing work on shawls — at work. There is wonderful calm, and detail, in the image: a whole family at work together.
Three generations squat barefoot on the wooden floor, doing needle-work, completely absorbed in their work, not far from snowy peaks, while the woman of the household goes patiently about her chores in the background. And finally, among the images in the book, a Nawab seated in his baithak with his companions, back resting against an enormous bolster, the stem of a huqqa-pipe in his leisured hand, and an ample, exquisitely patterned Kashmiri shawl wrapped around his aristocratic frame.
Top News
Major infrastructure damage, road to vital North Sikkim lead...
Says poor largest segment in country, deserve first right on...
The Canadian allegations regarding India's involvement in th...