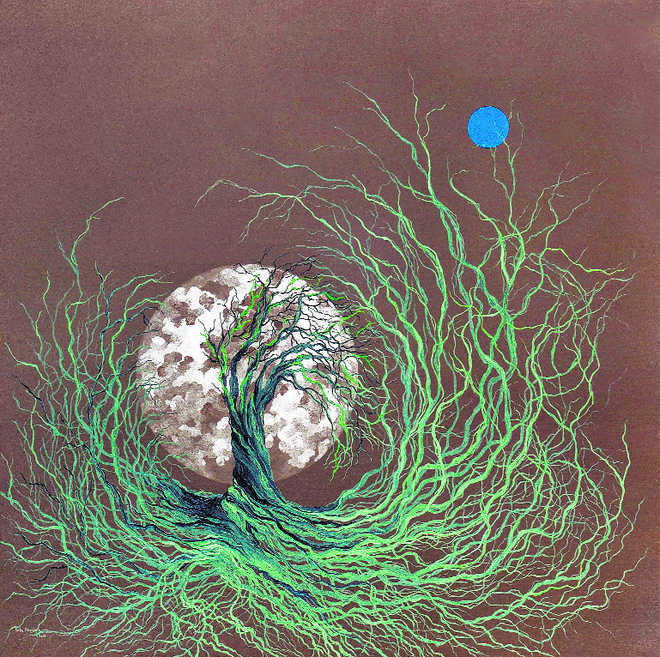 Swati Rai
Author and artist Kota Neelima's books deal with themes ranging from farmer suicides to gender issues and media ethics to politics. Her works are, but, an extension of her writings, and vice-versa. "Writing and painting have been integral to each other in my work. I write what I cannot paint and I paint what I cannot write. It has allowed me to communicate the intricacies of fieldwork beyond language through colour and form."
In her latest series, Metaphors of the Moon, Neelima interprets the moon as a metaphor for the mind. "The thought that travels through the mind undergoes a cyclic process of creation, immersion and regeneration, much like the phases of the moon. The absence is merely a phase of presence, just as presence is a phase of absence. The mind, too, finds reconciliation through its thoughts that travel from a cyclic process of despair and hope, to participate in the actions/reactions of the material world."
In this digital world, which operates at breakneck speed, we wonder how the artist-writer sustains the flow of creativity, and Neelima tells: "I do not exist when I write; I become the other. That state of non-existence gives me the greatest pleasure. As an author, I seek to diminish and eventually eliminate my mediation in the story. The representation that the world demands is better served by immersion in language and the visual, rather than the insistence on voice and identity." No surprises then that her work in the past — seven solo exhibitions and books — has been an effort to "let the subject actualise itself through direct access to expression."
As an artist, her paintings abound in minimalism, which is a clear and consistent element in her art. So how does one then cut the noise around the visual medium? "The eye can see all imageries. However, it is not the eye that filters the visual. The mind chooses 'the seen' and assigns meaning to the subject. Minimalism, however, forces the mind to find meaning in the absence of the subject and challenges pre-conditioned notions."
Ask her about her opinion on art and its teaching, and she says, "Passion to create is inherent in human nature. It must be recognised beyond institutional teaching and practice of art and preferably with its collaboration. That is the best way great art can be created and appreciated."
While her new exhibition is set to travel to London for a show in September, Neelima is next researching the state of rural India as it faces the worst drought in years.
Top News
The top wrestler claims that people close to WFI chief Brij ...
The announcement was made in the presence of Ajit Pawar, a k...
The incident takes place at around 1.30 am when the men barg...
Mann says his government will recruit 1,880 doctors and nurs...
Khattar's remarks come amid reports of growing differences b...