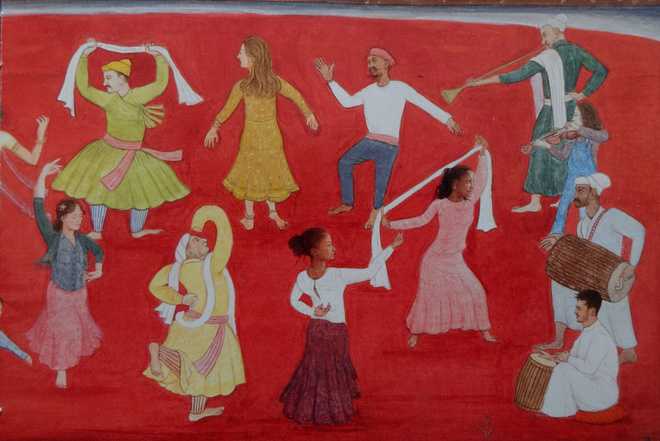 B.N.Goswamy
The creative process by nature is explorative, so every time I do a painting, I learn something new about myself, the world around me and my relationship to it. I like the Alan Watts quote:"You are an aperture through which the universe is looking at and exploring itself."
……..
I had previously been in India learning how to paint traditional Indian miniature paintings. It was a window into a whole new way of being and seeing for me. In my first week there, I tried to describe to my teacher, Ajay Sharma (of Jaipur), what I learned from life drawing classes in England and how I was taught to "draw what you see, not what you know". Mr Sharma wiggled his head as I spoke, twisted his hand and softly said: "Yes, yes. Look, everything you learnt in England, everything you know... now forget it."
I soon realised that the act of submitting to a traditional process was required. I learned such a lot from following an ordered set of meticulous and disciplined methods that were so different from what I was used to.
— Jethro Buck, painter
Iknew very little about young Jethro Buck till a catalogue — a thin little paper-back volume — from the Crane Kalman Gallery in London landed up on my desk a few weeks back. Drawn to its very simple but evocative cover — under a sickle-sharp crescent moon, an orderly bush with a lush spread of leaves and branches in which lurked some birds: how many were there? three? five? — I opened the booklet and out jumped at me, from page after page, images that looked at once familiar and new.
A Mughal looking prince standing inconspicuously in a corner with a billowing cloud of sunflowers, growing larger by the minute, issuing forth as if by magic from his hand and filling the page; a series of green rolling hills through which a winding stream ran — like the Yamuna in those Gita Govinda leaves that one knows so well — and scattered men and women moved leisurely about, some of them reaching a summit; a segment of a forest densely packed with multi-coloured trees competing for space till as far as the eye could see: the images were of this nature.
They were almost all on paper with the uneven deckle edges of the sheets clearly showing, and a number of them were described as having been done with 'natural pigment and gum Arabic on Sanganer paper'. Clearly, in the painter's ancestry of work there was a distinct Indian strain. Delicacy, refinement, abstraction, lyricism: the 'voice of a bird singing in the open air' as someone said. But also a love of natural pigments: white-veined lapis lazuli, dusty red cinnabar, green-hued malachite, white kharia, on the one hand, and turmeric, saffron, madder, peori, on the other.
Jethro trained in England — the Falmouth College of Art in Cornwall, the Prince's School of Traditional Arts in London — but evidently it was not until he spent time in India looking at Indian miniatures and absorbing them, apprenticing with a master painter at Jaipur soaked in the Indian tradition, that patience entered his work. Speaking of the Indian practice, he wrote at one point, that "to paint in this way, you have to slow down.
You lose yourself in the painting — and time is directly linked to your experience of it." Nick Kennedy, in his short essay introducing Jethro's work in this catalogue, speaks of the element of time in his work. "Time: perhaps that is what instils each of these painting with magic and mystery, a time that expands, holds its breath, then separates, like light in a prism."
There is respect for the Indian tradition in Jethro's work, but also an impish desire to toss things around a bit, or, gravely, to involve the viewer in the act of seeing from close. Consider his work What's Going on Here, 2016 made on gold leaf Sanganer paper.
There are truly a whole range of mystifying things going on here, all going back in one way or the other to traditional work and picking something from it: here fish purposefully swim from right to left regardless of whether it is water or land while one of them provides a perch to Khwaja Khizr to stand upon; Mughal jalis suddenly appear from nowhere; vimanas fly about in the sky from which a tiger also decides to descend; the sun and the moon occupy spaces at the edges of a faintly drawn tree; an elephant raises its trunk in salute to something that is not necessarily happening. One can wander for long through this work.
In his Reading on the Carpet of Paradise, he spreads an exquisitely patterned carpet that rises four-square, as in Indian painting, in vertical projection, and then decides to rest a tall thin ladder against it, climbs up on top and lies down, reading. In Pandit Seu's Villagers Dancing, he recalls the Pahari master's work of gay abandon, but inducts his own friends and companions who seem to be loving dancing with Gaddi tribesmen.
There is delicious play here, but also the desire to 'capture transition', as he says. "Like the transition when the day is over but the night hasn't yet begun."
Top News
Southern districts of Odisha and eastern Telangana continue ...
Assailants went to Gogamedi's house on pretext of meeting hi...
No word on how many ministers would be sworn in and whether ...
Lokesh Sharma, who was denied a ticket to contest Rajasthan ...
He had called the December 6 meeting of the bloc after the p...