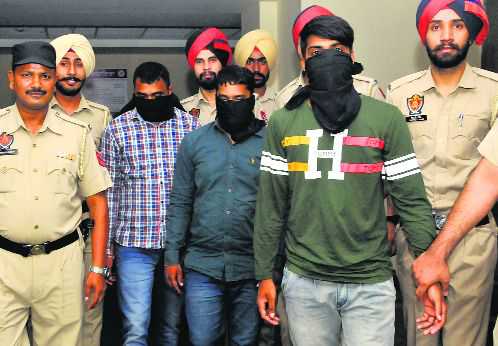 editorial@tribune.com
Tribune News Service
Mohali, July 8
The local police today busted an organised gang of ATM fraudsters by arresting three of its members here.
The suspects have been identified as Upinder, Sahil and Jatinder, all residents of Damtan Sahib in Jind district of Haryrana. The remaining two members of the gang are still at large. Upinder is said to be the kingpin of the gang.
The police claimed that with the arrest of the fraudsters, at least 60 cases of ATM fraud, worth around Rs 22 lakh, had been worked out in Mohali district alone.
"The trio has confessed to their involvement in at least 100 such cases. The gang was active in Punjab, Haryana, Himachal Pradesh and Delhi," said Mohali Senior Superintendent of Police Harcharan Singh Bhullar. The police have recovered a card reader, a card writer, 18 clone cards, an iPad and a Swift car from their possession.
Bhullar said the miscreants' modus operendi was to target elderly persons, women and the illiterate, who needed help in operating ATM cards. "While offering help to their prey, they used to read the data of the cards of their victims on the card reader. They saved the data in their iPad through a software and decoded it. By using the card writer, they prepared clone cards," said the SSP.
"During interrogation, they confessed to their involvement
in at least 100 cases of ATM fraud. We are trying to get more information from them in this regard," said the SSP.
Asked about the educational qualifications of the suspects, the SSP said all of them were school dropouts.
The police said the miscreants had entered the crime world around a year and a half ago. "We recovered a year-old clone card from their possession," said the police.
A case under Sections 420, 465, 467, 468, 471, 474 and 120 B of the Indian Penal Code and Sections 66 and 66 D of the Information Technology Act has been registered against them at the Phase 8 police station.