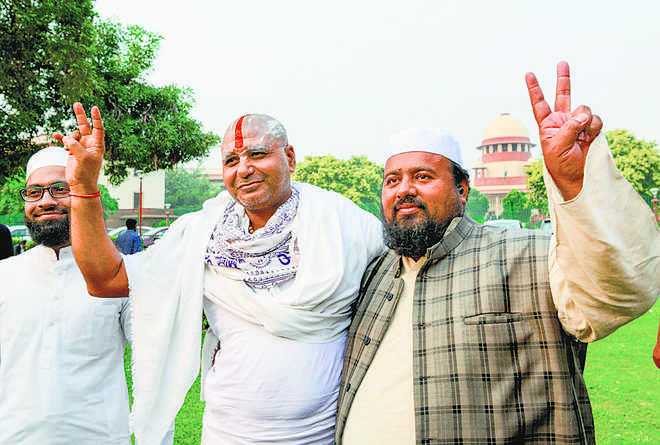 laxmi@tribune.com
Tribune News Service
New Delhi/Lucknow, October 16
Amid speculation over a possible amicable solution to the vexed dispute at Ayodhya, the UP Sunni Wakf Board is said to have agreed to give up its claim on the disputed site, if Muslims' interests were protected.
The board is understood to have demanded 22 dilapidated mosques be reconstructed, sources said. It has also demanded Muslims be allowed to offer namaz in mosques under the control of ASI. A settlement agreement to this effect is understood to have been filed in the top court by the mediation panel led by Justice FMI Kalifulla. A five-judge Constitution Bench headed by the CJI is likely to consider the mediation panel's report at in-chamber hearing tomorrow.
Sources said Ram Janmabhoomi Nyas and Ram Lalla had not signed the agreement, neither had some of the Muslim parties. A report from Lucknow too said UP Sunni Central Waqf Board chief ZA Farooqui had written to the mediation panel, listing conditions. The contents of the letter were not shared. A mention of it was made at the October 10 meeting of 'Indian Muslims For Peace' in Lucknow. Retired IAS officer Anis Ansari had told the media that suggestions made by it had been endorsed by Farooqui.
'Muslims For Peace' had proposed...
Handing over the land with the Muslims to the Centre
Status quo of religious places since 1947 at other places
Juma namaz at various religious monuments under ASI
Counsel tears map
Counsel for Muslim parties Rajeev Dhavan tore up a pictorial map showing the exact birthplace of Lord Ram during the hearings in the Supreme Court on Wednesday.
'Enough is enough'
Chief Justice of India Ranjan Gogoi-led Bench made it clear that it would conclude the hearing by Wednesday, saying : "This matter is going to be finished today by 5 pm. Enough is enough."