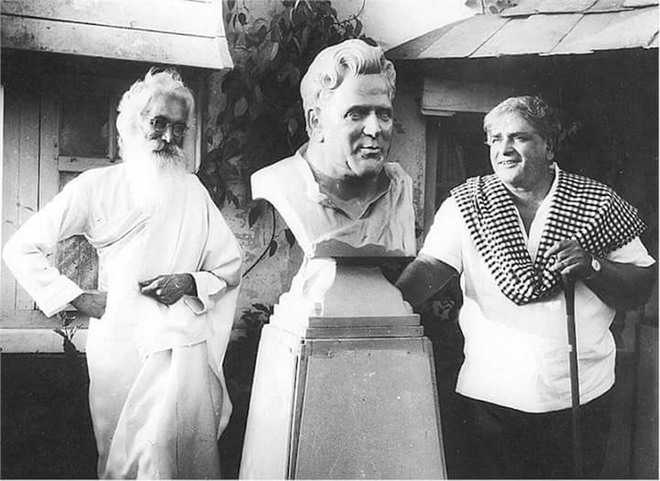 editorial@tribune.com
Lalit Mohan
Tribune News Service
Dharamsala, July 15
Bad roads and poor infrastructure greet tourists at Andretta, the world-famous art village of Kangra district. The village hardly has any facility for thousands of tourists visiting the art gallery of Sobha Singh, the old house of Norah Richards, pottery centre of Gurcharan Singh and the house of famous artist BC Sanyal. There is no hotel, not even a tea shop to provide them snacks, let alone a public rest room.
GC Pathania, president of the Andretta Vikas Manch, said in the 1980s, the Kangra DC had acquired land and building using funds to create the facility for the tourists visiting the village. Thereafter, the Tourism Department took over the building and planned to build a hotel, a restaurant, a mud house and a camping site. However, the half-completed building was deserted in the ''90s, and now it was in ruins, he said.
Andretta was selected as home by many artists of the Lahore School of Art after the Partition. The first to arrive here was Norah Richards, a famous British Punjabi playright. After her death, she donated her house to Punjabi University, Patiala. Students of the drama department of the university organise a festival in November or December every year. For the rest of year, there is no activity here.
Sobha Singh, famous for conceiving and creating the pictures of all Sikh gurus and other world famous paintings such as Sohni-Mahiwal, had also made Andretta his home after the Partition. Many of his works are now displayed here now being managed by his grandson Hirday Paul. A large number of artists and tourists visit Andretta to see the works of Sobha Singh.
The village has a pottery centre of Gurcharan Singh, who is considered as the father of artistic pottery in India. It is being managed by his son Mansimran Singh or Mini Singh and has all facilities to train students in the art of pottery.
Famous actor Prithviraj Kapoor also used to visit Andretta and the Kapoor family still owns land in the village. BS Sanyal, the doyen of modern art in India, had his house in the village and spent most of his life here. The famous Punjabi writer Amrita Pritam wrote a novel 'Agojar Dian Parianon' on Agojar village near Andretta.
Despite such big names being associated with Andretta, the state government has not done anything to exploit the tourism potential of the village.
Lakhwinder Singh, a regular visitor, said the state government could organise an art mela and most artists would love to take part in it.
Satish Sharma, a local, said they wanted the Pathankot-Jogindernagar train to halt at Panchrukhi near Andretta.
---
Selected as home by leading artists
Andretta was selected as home by many artists of the Lahore School of Art after the Partition.

Thousands of tourists visit the art gallery of Sobha Singh, the old house of Norah Richards, pottery centre of Gurcharan Singh and the house of famous artist BC Sanyal.

Sobha Singh, famous for conceiving and creating the pictures of all Sikh gurus and other world famous paintings such as Sohni-Mahiwal, had also made Andretta his home after the Partition.

The village hardly has any facility for thousands of tourists visiting the art gallery

There is no hotel, not even a tea shop to provide them snacks