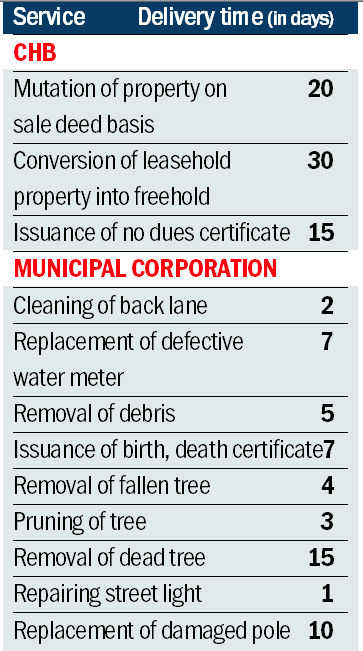 editorial@tribune.com
Ramkrishan Upadhyaya
Tribune News Service
Chandigarh, September 11
Almost two years after the Ministry of Home Affairs (MHA) extended the Punjab Right to Service Act to the city, Punjab Governor and UT Administrator VP Singh Badnore today approved around 188 services to be notified under the Act.
Sources said the Department of Personnel, UT, would issue a formal notification for services provided by five major departments in the UT within a couple of days. This will enable residents to get their works done within the period fixed for the delivery of service.
The Right to Service Commission, headed by KK Jindal, had identified around 188 services of major departments, which will be notified in the first phase.
The departments to be covered under the Act include Estate Office, the office of the Deputy Commissioner, the Transport Department, the CHB and the MC.
Chandigarh is the first UT in India to implement the RTS Act. The highest number of services being notified relates to the MC, followed by the Estate Office and the DC's office.
Each department will now have to designate an officer for the implementation of the Act. The designated officer will have to pay a penalty for deficiency in service without reason. The penalty can range from Rs 500 to Rs 5,000. Disciplinary proceedings can also be recommended against the officer. The applicant may be compensated out of the penalty imposed on the officer.
The departments will also nominate first and second appellate authorities to decide appeals against the delays in provisioning of service. The Right to Service Commission will hear the revision applications against order of the second appellate authority.