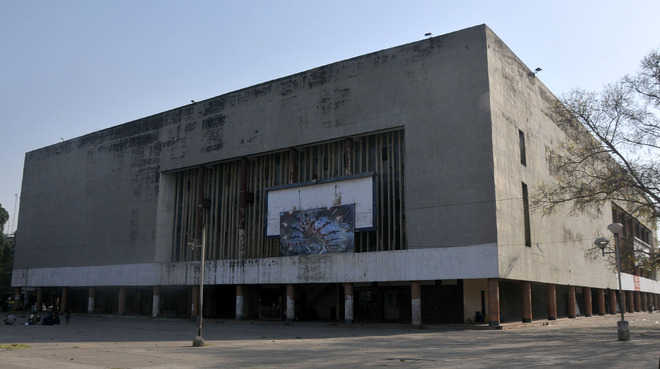 editorial@tribune.com
Aradhika Sharma
Indians love movies. Unfortunately, many iconic cinema halls, specifically single-screen theatres, have had to shut shop. Although they're not completely extinct, they're gasping for breath, and it is, but, a matter of time when they will go out of existence. Metro cities and larger towns have already chosen to embrace their glitzier, upmarket cousins — the multiplexes. The good-old cinema halls are increasingly getting confined to small towns and villages where they survive on B-grade films.
There are some, nostalgic about these institutions (almost every metropolitan had theatres named Regal, Liberty, Royal, Tagore, Minerva, Odeon and Metro). And then there are others who welcome the change that has brought about a more comfortable viewing experience. "Yes, we do regret the passing of the old theatres," agree a group of ladies, regular walkers in Bougainvillea Garden in Chandigarh. "We've watched wonderful films in historic cinema halls, but those weren't preserved and upgraded. None of us would now like to endure the discomfort of watching a film in a traditional picture hall."
Mingling with the stars
Asha Sharma, an avid movie goer and film lover, talks about movie-watching experiences in Kolkata (then Calcutta) in the 1960s, 1970s, the time when Calcutta was considered the most elite city in the entire subcontinent. "Movie watching used to be a complete experience in the plush movie theatres Metro and Globe in Calcutta. We would dress up to go and watch movies," she reminiscences.
Metro, located in Calcutta's posh Esplanade area, was in fact, opened by Metro-Goldwyn-Mayer in 1935 and is both a landmark and a heritage structure.
"English movies would be screened in Metro. The walls were decorated with giant pictures of famous British and American film stars and beautiful crystal chandeliers hung in the ante rooms. On Sundays, the theatre would be transformed into the Metro Club and there would be a variety of entertainment there! It was all very exciting and old-world" says Sharma.
Metro, however, became another heritage giant to succumb to 'development' and, much to the regret of the Kolkata cinephiles, is all set to get converted into Inox multiplex.
Metro's counterpart in Mumbai was also designed by the Scottish architect, Thomas W. Lamb. "The very first Filmfare Awards — they were then called the Clare Awards, after a film critic, Clare Mendonca — were held here" informs 80-year-old Dr. Abhimanyu Dave.
"Metro hosted several star-studded premiers. In 1989, for the premiere of Chandni, Yash Chopra set up stalls selling bangles, parandis and other Punjabi-wedding accouterments in the lobby. In 1993, when Subhash Ghai released Khalnayak, he converted the foyer into a prison!"
Kempe Gowda Road in Bangalore probably had the highest number of cinema theatres per square mile in the whole country. The city was a movie watcher's paradise. As early as in the 1950s and 1960s, theatres would hold screenings of films in multiple languages — Hindi, English, Kannada, Tamil, Telugu — making the experience eclectic and pan Indian. Cinema halls there included Sagar, Kempegowda, Himalaya, Geeta, Shanthi, Pallavi, Majestic, Movie Land and Alankar. At one time, there were 200 halls in Bangalore. These were opulent spaces — some even had escalators.
Similarly, Raj Mandir in Jaipur, the epitome of royalty and elegance, is still considered a popular tourist attraction of Jaipur. Maratha Mandir in Mumbai (1958), which could seat a thousand people, is famous for running the film DDLJ for more than 1,000 weeks.
Queues and quarrels
Watching films in the pre-multiplex days had its own set of protocols. You had to stand in queues to get the tickets hours before the show started. Often, the serpentine rows had to be formed outdoors, with the vendor cooped up in a tiny cubby hole — the ticket window. It had an iron grill with an opening just big enough to make the transaction. "You could make good friends in the queue or even enemies" says retired architect, Jatinder Sahni. "Many times, there would be an exchange of hot words. People even came to fisticuffs if they felt that they had been jostled or someone had jumped the queue."
"There weren't multiple shows like there are these days," adds his wife, Radhika Sahni. You had just the morning show, matinee, evening show and the late-night show. "Special shows were run for ladies, mostly in the mornings and there was also a provision of ladies' section in the halls." Incidentally, the ticket price was in four or five slabs — front row, middle row, rear, balcony, dress circle and, in a few places like Regal in Delhi's Connaught Place, the boxes.
"Movie tickets were so cheap! The 'chavanni' section actually existed. The very-expensive balcony tickets cost only three rupees!" recalls Savita Guha, a homemaker. "During the interval, the food vendors would come inside the halls with their wares. But many of us preferred to take our own food and snacks. It was like having a picnic while enjoying a movie."
Anju Kaur, a former YPS student, reminiscence about Phul, the popular picture hall in Patiala, "There never used to be any ticket numbers in Phul. My friends and I went to watch Barsaat in 1995 starring Bobby Deol and Twinkle Khanna. People were so excited to see Dharmendra's son's picture that a stampede almost triggered. My dupatta got caught between people and I was almost strangled to death."
Chandigarh's legendary theatres: Piccadilly, Kiran, Neelam, Batra, Bassi (in Mohali) and the dome-shaped KC, used to be hubs of activity. Although Kiran is still functional, people don't queue up at the ticket window like they used to before multiplexes came into being.
Delhites were saddened when they heard of the closure of the seminal 84-year-old Regal Theatre. It was often termed as the Capital's 'premier theatre'. But like all good things come to an end, it did too recently, and became home to Madame Tussauds' debut edition in India. The exclusive-and-expensive Regal used to be a place where ballets, plays and talkies would be staged. Home to red carpets, premiers and elite, anglicised gentry, it was the first movie theatre to open in the heart of the city, followed by the iconic Plaza, Rivoli and Odeon.
Fauji filmistans
"Fauji halls were quite quaint and the experience was very different than watching a movie in a usual cinema hall," says Col Gurpreet Singh (retd). Going for a film screening in a fauji theatre was akin to social outing. Films, usually the outdated ones, would be screened at the institutes or Regimental Open Air Theatres or on bigger screens run by Divisions. A bar would be set up and officers would carry their drinks inside the hall. Those who wanted to catch up and chat were free to do so outside over a drink. He smiles, "As young officers, we would go to catch a glimpse of pretty young ladies, who would come all dressed up. Sometimes, the film would be held up because the senior would arrive late. But, it was all good fun!"
Retain the magic
Reinhold Niebuhr had famously said "Change is the essence of life; be willing to surrender what you are for what you could become." Though most people get nostalgic about the bygone era, they wouldn't barter it for the comfort that the present-day multiplexes promise. Who would want to watch a movie in halls that are dirty and dingy and have rats running around?
"I wonder why the old cinema halls can't be as splendidly restored as the lovely Victorian Gaiety Theatre in Shimla. It was the hub of Shimla's social life. Lately, film festivals are being hosted." says Anju Singh, senior alumni of St. Bede's College, Shimla.
Unfortunately, instead of considering the restoration of the grand-old cinema halls, the owners have preferred to let them run to seed and simply fade away or have pulled them down to make offices, malls and multiplexes in their stead, thus letting city legacies go into decline. "I wish they could convert these movie spaces into boutique picture halls. I wouldn't mind paying for an old-world cinema experience." says Pawan Sahni, a film enthusiast.
Mumbai's iconic 80-year-old Metro Cinema, which was under renovation, has recently reopened as a six-screen INOX. It has retained the nostalgia, while incorporating modern technology and comfort. Retention of the original Belgian chandeliers, the old projector and wood paneling reassure the visitor that a blend of heritage and technology is possible.