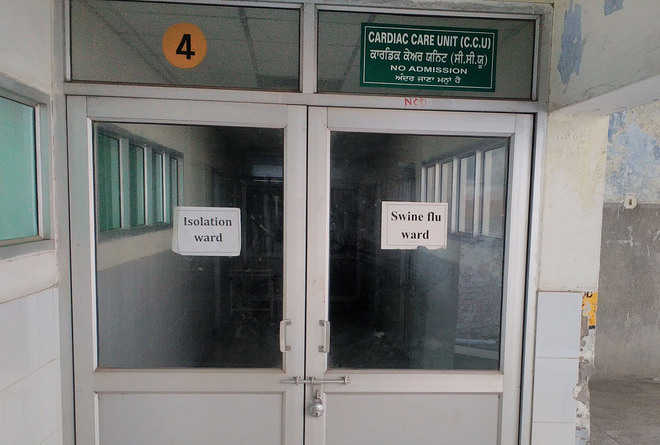 Sameer Singh
Tribune News Service
Bathinda, January 24
A sizeable number of suspected as well as confirmed cases of swine flu have surfaced in the district in the past one month. As per the records of the District Health Department, more than one hundreds suspected and four confirmed cases have been reported this season.
Talking to The Tribune, Dr Hari Narain Singh, Civil Surgeon, said "As many as 110 suspected cases of swine flu with B-category (milder) symptoms have surfaced so far this season. And out of the nine suspected cases of C-category (severe), four have been confirmed positive for the H1N1 virus."
"So far, one patient has died due to the virus in the district and efforts are afoot to ensure that the increased awareness and timely medical intervention helps us keep the number of patients at the lowest in the district," Dr Singh added.
Meanwhile, there has been a significant increase in the number of swine flu patients in the past 8-10 days at the OPD unit of the civil hospital.
District nodal officer for swine flu, Dr Manu Gupta, said "On an average, we have been witnessing three-four suspected as well as confirmed cases of swine flu on daily basis. A majority of the suspected patients are in B-category and therefore do not require critical care or admission. We are administering them medications and asking them to take precautions."
Dr Gupta said "The patients with symptoms of swine flu are examined at the civil hospital and those who require critical care or admission are referred to the government hospital in Faridkot."
The District Health Department is also providing free of cost medicines (Tamiflu tablets) and a number of private hospitals in the district have been getting the medicine from the civil hospital.
Swine flu ward lying locked
In the absence of ventilator facility, the swine flu ward at the government hospital is lying locked for a long time now.
Notably, Dr Hari Narain Singh, on November 15, issued an advisory to all academic institutions and city residents regarding the spread of swine flu. He said by being alert and proactive, the spread of the contagious disease could be prevented. But the ground reality is totally different.
Sources said swine flu patients, those requiring critical care, need ventilation support and since ventilators were not available at the civil hospital, patients are either referred to Government Medical College and Hospital, Faridkot, or to a private hospital in the city.
Sources said the mini ICU (housing swine flu ward) was introduced in the government hospital in 2012-13 with the motive of providing quality medical care to critical patients. But owing to shortage of staff and adequate equipment, it could not be made fully operational. The state unit of the Health Department had been intimated about the matter on numerous occasions but they did not take any concrete steps to make the unit operational. As a result, patients are asked to seek treatment at private hospitals in the city where they are being charged exorbitantly.
"Since the ventilator facility is not available in the civil hospital, we refer swine flu patients requiring critical care to other hospitals. We use the swine flu ward for proper diagnosis of patients," Dr Manu Gupta added.
Precautions against swine flu
Avoid touching your eyes, nose or mouth too often as this can lead to contracting the disease.
Wash your hands with soap and water or an alcohol-based hand rub (hand sanitiser).
Cover your mouth and nose when you sneeze.
Use disposable tissues instead of a handkerchief if you have a cold and throw the tissue in dustbin after use.
Viruses also spread by droplet infection, which might have deposited on common objects like phones, laptops, common desk and chairs. So, avoid touching too many objects and wash your hands if you do.
Avoid close contact with people who have flu
Top News
Also said that the Indian Navy is set to open all its branch...
Said it was a break from the colonial and pre-colonial legac...
The move will allow more than 200,000 workers who have famil...
BSF jawans hear buzzing sound of a Pakistani drone at midnig...
Case registered on CPI(M) West Bengal secretary Md Salim's c...