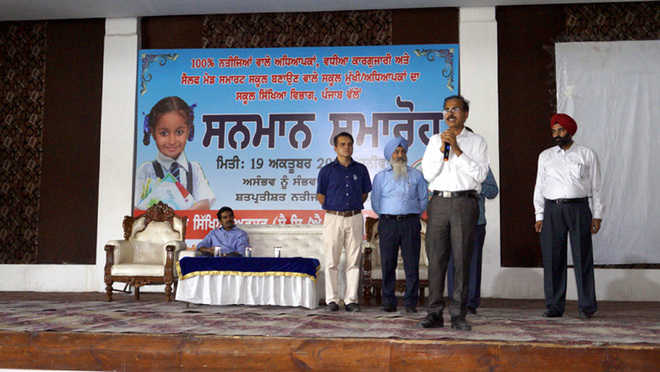 Tribune News Service
Muktsar, October 19
The Secretary, School Education, Krishan Kumar, on Saturday honoured nearly 2,000 government school teachers of Muktsar district at a function. It was organised by the District Education Office here. However, some teachers even boycotted the event in protest against alleged anti-teacher policies of the state government.
Lakhvir Singh, president, Democratic Teachers' Front, Muktsar, said, "The Education Department has sharply decreased the salary of SSA and RMSA teachers. Further, a number of teachers are not covered under the fresh transfer policy. The state government has even put extra burden of duties other than imparting education on teachers. So, we have boycotted the event."
He said even teachers were not invited for today's event, but the orders were issued asking them to attend the event. "Was this not disrespect of teachers that they were honoured by issuing orders and not by inviting them to the event?" he said.
Meanwhile, Krishan Kumar said some teachers had started holding extra classes in schools, which was an appreciable step. He advised the teachers to make a morning walk and exercise part of their routine to stay fit and stress free.
Deputy Commissioner MK Aravind Kumar, District Education Officer (Secondary), Makit Singh Khosa and District Education Officer (Primary) Baljit Kumar, among others, were also present.