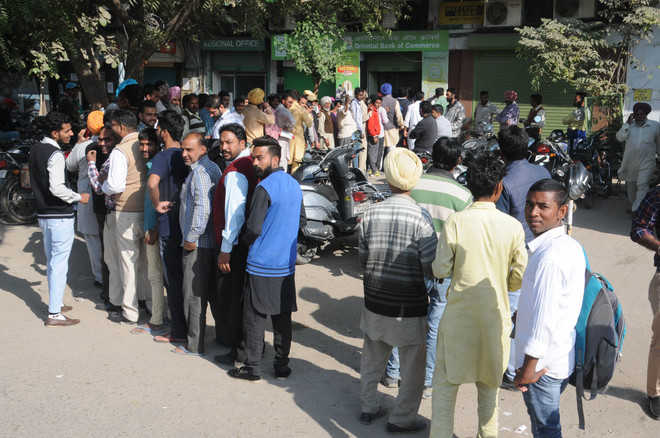 Tribune News Service
Bathinda, November 29
The woes of the common man continue even as the third week after demonetisation of old currency is over.
People are still under stress as cash is not available at banks while ATMs are running dry.
At most places, half-shuttered ATMs have notices saying 'Out of service' or 'No cash'.
People are forced to go ATM-hopping around several locations, anxious to find one that works.
Only a few ATMs outside the bank branches are working in the city but they witness huge rush and long queues.
Rajni, a city resident, said, "I prefer visiting the nearby ATM as I cannot wait for long hours in a queue. I have a six-month-old son to care for at home. It is quite sad that we are facing problems in withdrawing our own money, which we deposited for our security."
Another resident Sanjiv Garg said, "The condition is very bad. You can't do business transactions as labourers at the small scale units take salaries in cash. How can we pay them salaries as we can't withdraw more than Rs 24,000 a week. The Union government should remove the cap on the withdrawal from our accounts."
Sandeep Singh, another city resident, said, "Rural areas are affected due to cash crunch in the market. People don't have swipe machines or debit cards in such areas and every transaction made here is in cash. It seems that the Central government has taken this decision without any preparation."
Bank branches provided little relief as many were short of funds.
Although customers were allowed to withdraw up to Rs24, 000 a week, some branches are limiting withdrawals to Rs 10,000 and even to Rs 6,000 as they ran out of currency.
Banks officials said they received only two-thirds of the currency they needed.
The bank manager of a State Bank of Patiala (SBoP) branch said the supply of money is very less as per the demand. Most of the residents coming to banks are withdrawing Rs 24,000, irrespective of their requirement, he added.
He said every morning, they deposit Rs 2 lakh in the ATM, but within an hour, it runs out of cash.
Top Stories