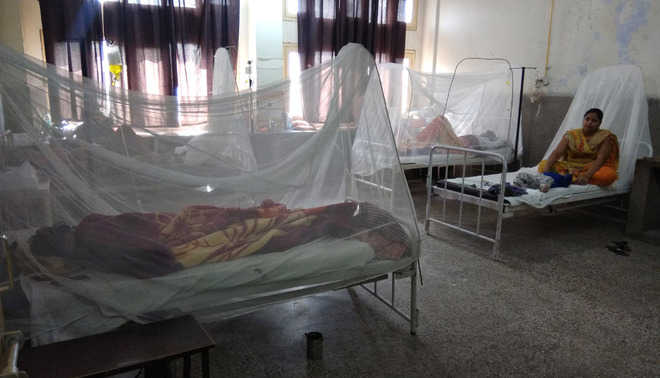 Tribune News Service
Bathinda, November 21
The number of confirmed as well as suspected dengue cases in the district is increasing day by day. As per the records of the District Health Department, as many as 547 confirmed and over 1,400 suspected dengue cases have been reported in the district this year.
Till the first week of November, there were 386 confirmed dengue patients and in the past two and half weeks, the number has gone up to 547, although officials claimed to have conducted fogging in different areas and sprays at houses of city residents.
The data procured from the district epidemiologist unit revealed that 161 confirmed dengue cases had been reported in the district in the past 18 days. Until last week of October, on an average, there had been 30 to 40 dengue patients (suspected and confirmed) coming for treatment at the out-patient department (OPD) of the civil hospital on daily basis. In September and till mid October, 10-15 dengue patients (confirmed and suspected) visited the unit for treatment daily.
However, doctors at the civil hospital said there was a sizeable drop in the number of dengue patients at the OPD and the number of suspected dengue cases had dropped significantly.
Meanwhile, IV fluid and other medicines are in short supply at the dengue ward of the civil hospital, as a result of which patients are forced to purchase these medicines from chemist shops outside at exorbitant prices. The staff members at the unit said they had informed the higher officials regarding the short supply/ absence of medicines but nothing concrete had been done in this regard yet.
It is pertinent to mention that Bathinda Tribune, in these columns, had highlighted that erratic supply of IV fluid from the past three months had been affecting dengue patients at the government hospital.
Dr Satish Goyal, Senior Medical Officer, could not be contacted despite repeated attempts.
Top News
The girl had visited Aaftab's flat twice in the month of Oct...
It was a follow-up of the seizure of 13 kg heroine