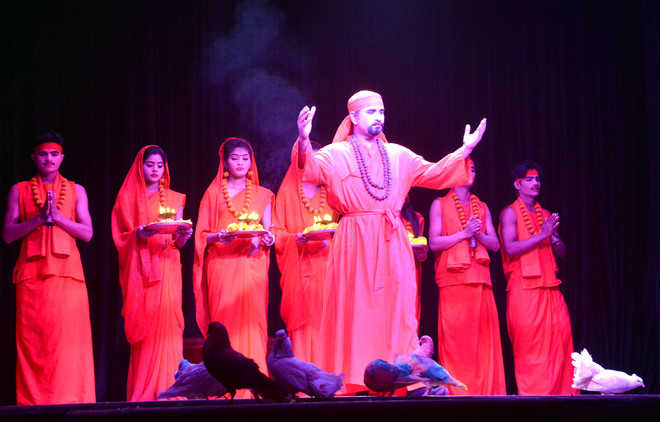 Nikhila Pant Dhawan
Tribune News Service
Bathinda, April 5
Veteran magician OP Sharma (74) and his crew are in the city to surprise and entertain the audience with the art of magic, which according to them is a scientific art.
"Through our magic, we aim to make people aware of superstitions and pull them out of the clutches of their old-fashioned beliefs. Self-styled Godmen befool people with simple acts of hypnotism. I show my audience how a ring can spew ash and how a Rs 100 note can turn into Rs 500. These are all tricks and mind games and one should not fall for them blindly," said Satyaprakash, Sharma's son.
Satyaprakash (46), said both he and his father were certified mechanical engineers.
"My sons are also keen on learning and taking up the art, but I have told them to study first and then get involved in this. The more they study, the better magicians they will become since it all involves science and a little art."
Agreeing that the influx of technological advances has dampened the people's interest in magic shows, Satyaparkash who goes by the name OP Sharma Junior, said, "There is so much information and entertainment available on the Internet that people tend to spend a lot of time online and they are left with little time to step out of the confines of their house to enjoy live shows."
"Magic, however, is one such art which is best enjoyed when watched live. The element of surprise is lost when we watch videos on the Internet. We feel it more when it happens in front of our eyes. Although there are many youngsters who are interested in learning the art, the number of spectators has not been very encouraging," he said.
The father-son duo also rues the fact that the Indian magicians get little help from the government.
"Several times we have taken up our demands with ministers but all that we get are promises and nothing is done. Barring an institute in Kerala, there is no government-funded institute to teach and learn magic. Other academies are being privately run by magicians," they said.
"In foreign countries, governments come forth to encourage talent and support the artistes. In several cities of India, we have to perform at cinema halls or at other places because there are no government auditoriums, which points to the fact that cultural activities are not being promoted," they said.
Top News
Odisha government has issued helpline 06782-262286. The rail...
At least 50 people died and 350 were injured in a three-way ...
12837 Howrah-Puri Superfast Express, 12863 Howrah-Bengaluru ...
WFI chief demanded sexual favours in lieu of supplements and...
Said agitation will be intensified by holding panchayats acr...