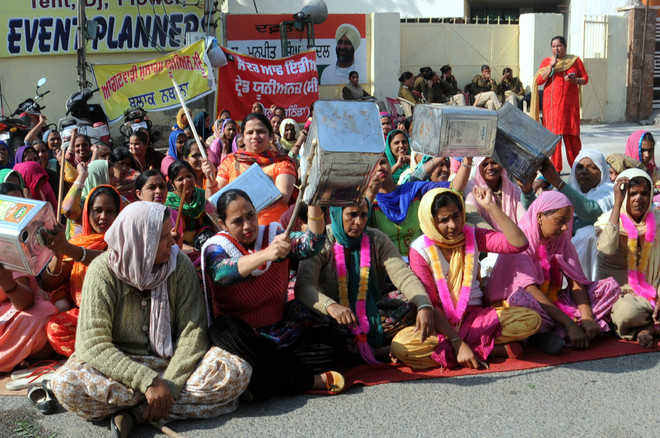 Tribune News Service
Bathinda, November 24
Members of the Anganwari Employees Union (CITU) continued their protest for the third consecutive day in front of the office of Finance Minister Manpreet Singh Badal here today.
The protesters clanged empty containers and raised slogans against the state government and the minister for not fulfilling their pending demands. Addressing the protesters, state president of the union Baljeet Kaur announced that they would continue with their protest across the state till the time their demands were not met.
She said pre-primary classes had been started in the state government schools without any prior notice to the anganwari workers and without proper planning in place. It seems the Capt Amarinder Singh government is not serious about the future of 54,000 employees and nearly 3 lakh children of the entire state, she said.
Moreover, they are not even showing any interest in lending an ear to the grievances of anganwari workers who have been protesting for the last 65 days in the entire state, she added. Pratibha Sharma, an anganwari worker, said, "Every day our five anganwari employees sit on hunger strike from 9 am to 4 pm, but till date no political parties or district officials have approached us."
"Prior to elections, every political party was coming to them, seeking their support, but now they all have become mute spectators," she added.
She said they were coming up with new strategy every day to wake up the government. They would be wearing black dupattas while staging a protest tomorrow, hoping that the government would wake up from deep slumber.
Top News
Major infrastructure damaged, road to vital North Sikkim lea...
Says poor largest segment in country, deserve first right on...
The Canadian allegations regarding India's involvement in th...