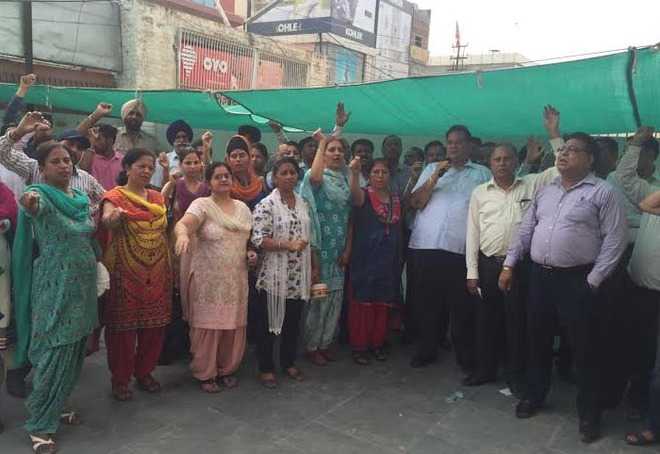 Tribune News Service
Bathinda, June 10
On the call given by the State Sector Bank Employees Association (SSBEA) and All India Bank Employees Association, staff members held a demonstration in front of the zonal office of State Bank of Patiala here today.
They protested against the adoption of resolution by boards of all associate banks — State Bank of Patiala, State Bank of Bikaner and Jaipur, State Bank of Hyderabad, State Bank of Travancore and State Bank of Mysore — for merger with State Bank of India by way of acquisition.
Addressing the demonstration, Pawan Jindal, general secretary, SBBJ Employees Union, Punjab, said the SSBEA had held a series of programmes against merger and against the discriminatory attitude of the SBI management towards employees of associate banks.
He said associate bank employees were demanding enhancement in housing loan but the SBI management had directed the associate banks' managements to enhance the housing loan for officers and they had been denied this facility.
"The attitude of the SBI management is so adamant that it is not even caring for the government guidelines in case of compassionate appointments in the SBI and associate banks. The SBI has altered the guidelines to such an extent that it has virtually denied appointment on compassionate ground," Jindal said.
"Despite the fact that the performance of the associate banks is better than that of SBI, they are still trying to merge the associate banks," he said, adding that an all-India strike would be observed by associate bank employees on July 28 and 29.
The strike will be observed by 10 lakh employees under the banner of United Forum Bank Unions.
Vice president of the union, Narinder Bansal, said for the past one year, the top management of the SBI was maintaining that there was no plan to merge the associate banks as the SBI could not afford it and there would be no benefit accruing to the SBI by such a merger. "Now, the SBI management is also imposing CPS unilaterally in associate banks, which is against the right of collective bargaining and associate banks will fight to preserve the collective bargaining," he said.
Top News
The Khalistan sympathiser said if the state government had t...
'Let us not be selective,' Solicitor General said while insi...
Counting of votes will take place on May 13
Deplores attempts by Rahul Gandhi to draw parallels between ...
Petitioner sought more time from the court for producing evi...