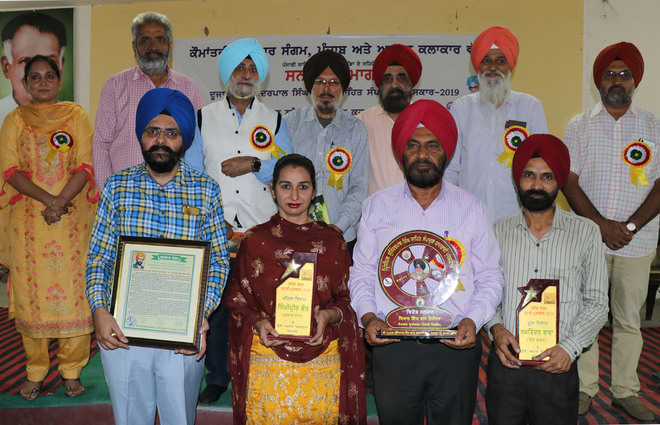 Sameer Singh
Tribune News Service
Bathinda, October 20
Renowned litterateurs from the region delivered orations on various subjects of national importance during an event, 'Komantri Kalakaar Sangam', here on Sunday. Writers were honoured for their contribution to the field of art.
The event was organised in memory of renowned novelist Niranjan Singh Tasneem. The award, instituted in memory of renowned litterateur Principal Surinderpal Singh Brar, was given to Dhyan Singh.
Col Narain Singh Bhattal award was given to Simarpreet Kaur and Lakhwinder and Bhai Ghanaiya Nishkam Seva Samman was given to Dr Amandeep Singh for their intellectual enterprise and noteworthy contribution to the field of literature. On the occasion, story collection books, 'Chup di Awaaz' and 'Kalakaar di Mang', of Kanwarjit Bhattal were released.
Showering a word of praise on Kanwarjit Bhattal, noted author Baldev Singh Sadaknama said his story collections were like flowing water of a river which never stopped and found recognition and resonance among his massive reader base with his pioneering writing.
Sadaknama expressed his concern over critics' excessive reliance and grilling of a piece of artistic (writing) work. "Resorting to excessive criticism of writing work, especially those by budding writers, will barely bode well for the future of literature as it will discourage them to write with more liberty. It is time that we create a congenial atmosphere for young writers so that they can come up with some good work. We are living in times where social, political and economic fabric of the nation is at the lowest ebb and scope for writing and literature is on a precarious footing today," said Sadaknama.
He also expressed concern over the excessive use of mobile phones in society rather than spending time reading books or newspapers.
Top Stories