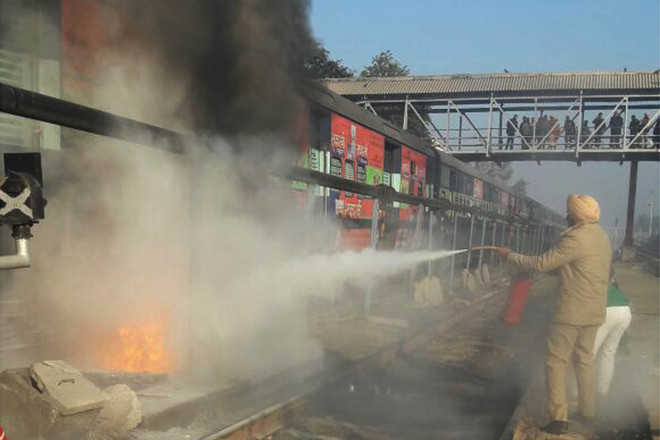 Tribune News Service
Bathinda, December 16
Passengers aboard the reserved handicap coach (NR 13762) of the 54559 Bathinda-Fazilka Passenger train had a narrow escape when the undercarriage of the coach caught fire at the city railway station this morning.
As per the information, the 54559 Bathinda-Fazilka Passenger train caught fire as soon as it reached the platform number 6 at 9 am. The reason behind the fire is said to be a short circuit in the charging point installed on the rail tracks. If railway employees are to be believed the diesel floating in the drain near the rail tracks also played some role in spreading the fire.
Railway employees and Railway Police Force (RPF) personnel immediately rushed to the spot with fire-fighting equipment. They safely divested the passengers and the fire was controlled within 10 minutes.
Jaswinder Singh, constable, RPF, said, "When the train's rear reserved handicap coach caught fire, we immediately divested all passengers safely, till then, they were unaware of the fire. Later, we controlled the fire within 10 minutes."
Station Superintendent Ramswaroop Meena said, "The fire was caused by a short circuit occurred at the charging point installed in the rail tracks." However, he denied the fact the diesel floating in the drain was also responsible for the fire. He said the diesel was so negligible that it could not catch fire. "We have formed an inquiry committee which will find out the exact reason behind the fire," Meena added.
Top Stories