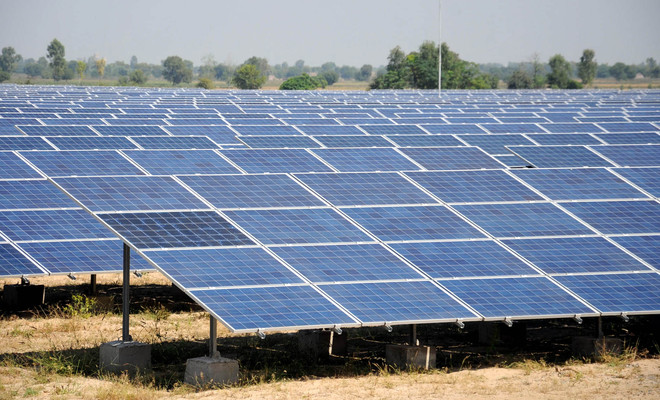 Bharat Khanna
Tribune News Service
Bathinda, July 9
The state government had planned to get installed solar power plants in three different phases while it had approved and got commissioned 64MW in Mansa district and 42 MW in Bathinda district whereas about 34 MW is under commissioning in Mansa district under the first phase of the Solar project.
In the second phase, about 229 MW has been approved for the project but companies had opted most of the land for the project in both Mansa and Bathinda districts.
In the second phase, the solar project, including about 29 MW under category I (from 1 to 4 MW), 100 MW in category II (from 5 to 24 MW), and 100 MW under category III (from 25 to 50 MW) had been approved. Further, under category I, around 7 MW in Mansa, 14 MW in Bathinda district and rest in Muktsar, Ludhiana, Amritsar and Tarn Taran districts have been given approval. Under category II, about 52 MW in Mansa and 24 each in Muktsar and Fazilka have been approved whereas under category III, about 70 MW in Mansa district and 30 MW in Fazilka district have been approved for installation of solar plants. However, in the third phase, 500 MW is under process of bidding.
The sun radiation level here in the cotton belt, that also touches the border with Rajasthan, is high than other parts of Punjab. Besides, the low prices of land is another factor that attracts companies to install private solar plants here. Companies prefer to purchase land where the solar project is less than 5 MW. However, for big projects they opt to get land on lease. About five acres are needed for every 1 MW of the solar power plant," said, Makhan Lal, District Manager, PEDA Mansa.
"I have relatives in both Majha and Doaba. They would make excuse for their rare visits to our home in Mirpur kalan village of Mansa claiming that the radiation level is high there. Ask anyone from Majha and Doaba, they have a perception that the parts of Bathinda and Mansa districts are hotter than other parts of the state due to high sun radiation and there is a lot of barren land which also results in high velocity winds. But solar power plants can change this perception," said a farmer Nachattar Singh.
Barren lands and more radiation had now turned profitable for Bathinda and Mansa farmers. High radiation of sun directly affects the fertility of land and turns it into barren.
Exposed to high sun radiation, as compared to rest of the state, barren land was never among the positives of Bathinda and Mansa, however, with solar power technology evolution, both high radiation and barren land factors may turn into gold factors for farmers of the region.
It may surprise many but owners of barren lands, which were neither suitable for paddy nor for cotton, are now seeking more annual profit than what fertile land owners of state are getting. Farmers are getting Rs 40,000 to 50,000 per acre per year for giving their land on lease by entering into the contract for about thirty years.
Bathinda and Mansa districts are located near Rajasthan which has the best radiation level in the nation. "This is a new thing for us. Nobody ever thought that more sun radiation and barren land could be profitable. In farming, we could save about Rs 25,000 hardly per annum from two crops in a year. A number of debt-ridden farmers are committing suicides due to the same. Solar plant developers giving sufficient lease rates for land, is a new hope for such farmers who are debt ridden," said Darshan Singh, a farmer of Gamiwala village in Boha block of Mansa district.
Top News
It was a follow-up of the seizure of 13 kg heroine
The speeding truck broadsides a Lucknow depot bus
The girl had visited Aaftab's flat twice in the month of Oct...