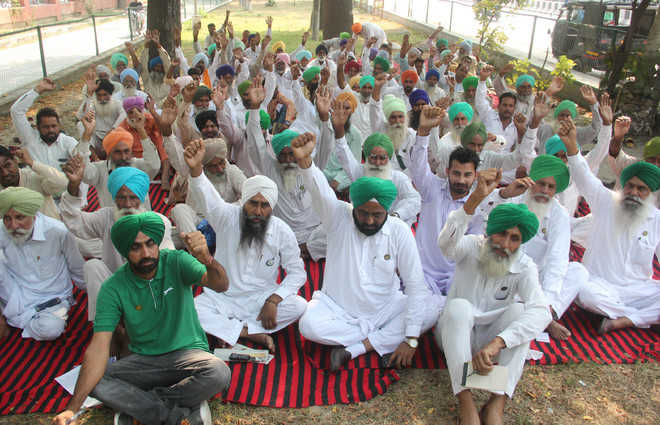 Tribune News Service
Bathinda, October 24
The Bharatiya Kisan Union (BKU) Lakhowal on Thursday staged a protest outside the District Administrative Complex. Later, a memorandum of their demands was submitted to the Deputy Commissioner. The protest was headed by district president of the union Dara Singh Maiserkhana, state general secretary Ramkaran Rama and vice-president Sukhmukh Singh Sidhu.
They held the protest in response to a call given by the BKU national high command to give memorandums across the country in protest against the Narendra Modi-led Central Government.
While addressing the protesters, the farmer leaders said under pressure from the US and other developed countries, the Centre is going to sign the proposed Regional Comprehensive Economic Partnership (RCEP) trade agreement in a meeting, to be held on November 4 in Bangkok.
They claimed that if it happens, farmers, small businessman and shopkeepers would be highly affected.
They said: "Other countries with which we are signing this treaty already have huge stock of grains, milk, eggs, vegetables, fruits, sugar, wood and pulses."
They warned that if the Union Government signs the treaty, then they would intensify their stir. In another protest, Kirti Kisan Union members today staged a protest on the Bathinda-Badal road over the non-procurement of paddy and non-purchase of cotton by the Cotton Corporation of India (CCI).
Top News
Sakshi Malik posts a message on social media
Locals, CRPF and police personnel rush to the spot and launc...
The accused was in a relationship with the minor, but they h...
Justice Dinesh Kumar Sharma denies the relief to the AAP lea...