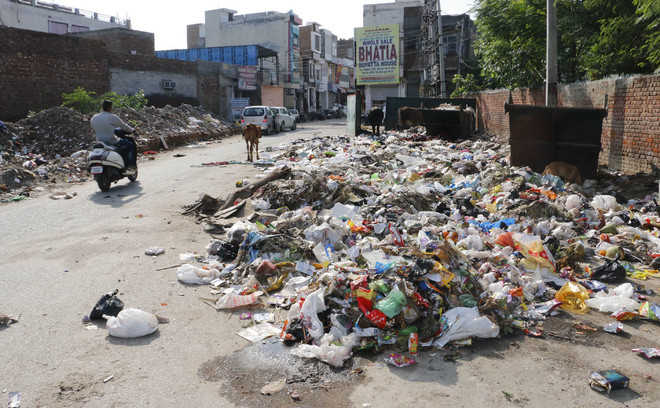 Tribune News Service
Bathinda, August 27
The tense situation following the conviction of Dera chief Gurmeet Ram Rahim Singh in a rape case may not have led to any incident of violence in Bathinda, but it sure has affected the door-to-door garbage collection facility extended by the Municipal Corporation in association with the JITF company as it has been suspended for three days now.
Considering that the quantum of punishment for the Dera head will be announced by the court tomorrow, there are apprehensions that curfew may be reimposed in the city again to maintain the law and order situation. Even garbage collection may not be undertaken for the fourth consecutive day.
Owing to the curfew for several hours over these three days, garbage was not picked up from close to 64,000 households of the city and the secondary garbage picking points could be seen littered with trash.
Residents of the city complained that since the door-to-door collection had not been conducted, vacant plots had turned into virtual dumping grounds as the residents were left with no option but to dump the household trash out in the open.
They also alleged that despite bringing the matter to the attention of the councillors of their respective wards, they were given the answer that as all the offices were closed, so was the MC and directions couldn't be given to the safai sewaks to continue with their jobs during the hours for which curfew was relaxed.
"Yesterday, curfew was relaxed for 12 hours but the authorities didn't realize that collection of garbage was also important and could have been conducted in phases in parts of the city. The authorities didn't wake up from their slumber and the common man has to suffer," said MM Behl, a resident of Panchvati Nagar.
Gian Chand Bansal, a resident of Model Town Phase 1, said, "It is the monsoon season and since residents have now resorted to dumping garbage in the open, there are chances of diseases spreading in the area. The dumps of garbage in the streets, vacant plots and secondary garbage collection points have started emanating a foul smell and the problem needs to be addressed at the earliest."
Meanwhile, sources in the MC said the corporation would have to first take permission from the district administration before asking the safai karamcharis to return to work. While the Bathinda mayor could not be contacted, MC officials assured that as soon as curfew was lifted, garbage collection would be conducted.
Top News
On Biden admn's request, smuggler was held in Czech Republic...
PMGKAY to continue for 5 more years from January next