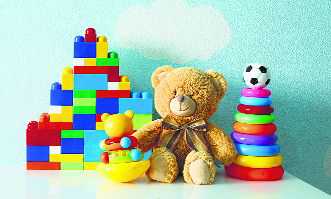 Balwant Garg
Tribune News Service
Faridkot, October 22
To regulate the functioning of playschools in the state, the State Council of Education Research and Training (SCERT) has drafted a recognition policy to ensure safety, security and adequate learning of the children in age group of three to six years. At present, there is no policy to regulate the play/pre-schools in the state.
"No playschool will be allowed to function without recognition from the School Education Department after January 1, 2020," reads the draft of the new policy, released by the SCERT. According to it, every playschool must be built on an area of not less than 500 sq yards with a proper 40-ft wide access. The building should be structurally sound and there must be a separate classroom of not less than 250 sq ft for every 20 children. At present, many playschools are operating from small-sized residential buildings.
According to the guidelines, no child below the age of three years should be admitted to a playschool. For every 20 children, there must be one teacher, at least a graduate, and one caregiver, at least a matriculate, at the school. Besides, the ratio of children and area of a classroom must be 1 child:5 sq ft. An additional teacher and an attendant in a classroom with more than 20 students would be required. The teacher and the attendant must have done a first aid diploma from any District Red Cross Society or a recognised institution.
Every playschool in the state will require recognition from the School Education Department and the already operating schools will need to seek recognition before December 31, 2019.
The new policy that has sought comments and suggestions from stakeholders, including DEOs, BPEOs, school heads and teachers, reads that all classrooms in these schools will have CCTV surveillance and have rest rooms as well as play areas. Adequate first aid kits must be available in every classroom.
The Director, SCERT, said the necessity of the playschools was rising in the present time. According to the Director, when young couples have to travel away from their native places for their employment and work, children in the nuclear families without their grandparents need care and attention.
For recognition to playschools, the applicant must deposit a processing fee of Rs50,000 to the Education Department and the DEO (Elementary) will appoint a team of two officials to carry out an inspection of the site. Recognition will be granted for an initial period of three years and will be extendable for the same period after a due inspection by the authorities.
SUGGESTED GUIDELINES
No child below the age of three years should be admitted to a playschool
For every 20 children, there must be one teacher, at least a graduate, and one caregiver, at least a matriculate, at the school
The ratio of children and area of a classroom must be 1 child:5 sq ft
An additional teacher and an attendant in a classroom with more than 20 students would be required
The teacher and the attendant must have done a first aid diploma from any District Red Cross Society or a recognised institution
Every playschool in the state will require recognition from the School Education Department and the already operating schools will need to seek recognition before December 31, 2019
All classrooms in these schools will have CCTV surveillance and have rest rooms as well as play areas. Adequate first aid kits must be available in every class room
Top Stories