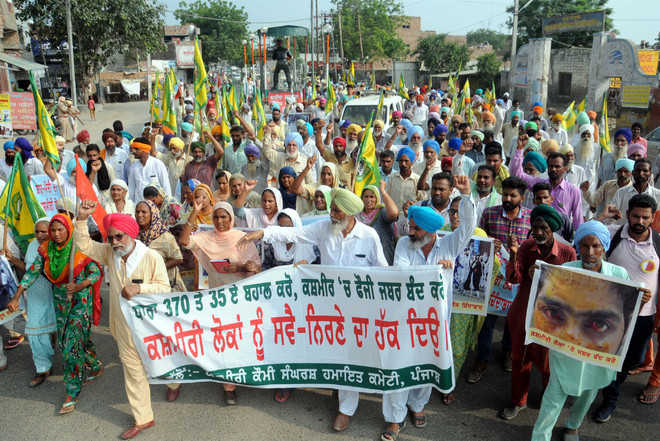 Tribune News Service
Bathinda, September 10
Various farmer organisations on Tuesday held a massive rally at the grain market in the city against the Union Government's move to abrogate Articles 370 and 35-A and dividing Jammu & Kashmir into Union Territories. Demanding rollback of the same, they took out a protest march from the grain market to Gol Diggi in the city.
While addressing the protesters, BKU Ekta Ugrahan senior vice-president Jhanda Singh Jethuke, Harvinder Bindu, Shingara Singh Mann said, "Kashmiris should be given freedom and right to take their own decision. Freedom given to the corporate houses to loot people should end. The restrictions imposed in Kashmir should be removed. Army should be called back, AFSPA should be repealed and those arrested should be released."
Other leaders Mothu Singh Kotra, Harjinder Singh Bagga, Zora Singh, Sewak Singh, Tirath Singh Kotguru and Ashwani Kumar said, "For the last 72 years, the ruling parties have tried to suppress the Kashmiri people. While sending the Army, it was promised that after restoration of normalcy, Kashmiris will be given right to choose the country they want to join or formation of a separate country." They alleged that the BJP-led Union Government had captured Kashmir using force.
They also said that Dalit and minorities were been targeted by the RSS, Bajrang Dal and other like-minded organisations. They alleged that the government wanted to give freedom to corporate houses to loot the Kashmiri people.It is pertinent to mention that in view of the protest, a huge police force was deployed at the entry points of the city since morning.
Help Kashmiri students: Bir Devinder
Vidhan Sabha ex-Speaker and SAD (Taksali) leader Bir Devinder Singh interacts with Kashmiri students at city colleges to know about their issues. He's preparing a report on them that he will forward to the Prime Minister's office
Urges state govt to reach out to Kashmiri students with emotional and financial help as they are unable to contact their families
Accuses state of having failed to waive farm loans, curb drug menace and flays Capt Amarinder for appointing advisers
Top News
Liquor trader paid Rs 1 crore to associate of Sisodia, says ...
Says CBI raid 'reward' for good performance
Indian and Chinese troops are engaged in a prolonged standof...
Also urges international community to play a 'facilitative r...
Was allegedly mowed down by a dumper truck in Nuh during a r...