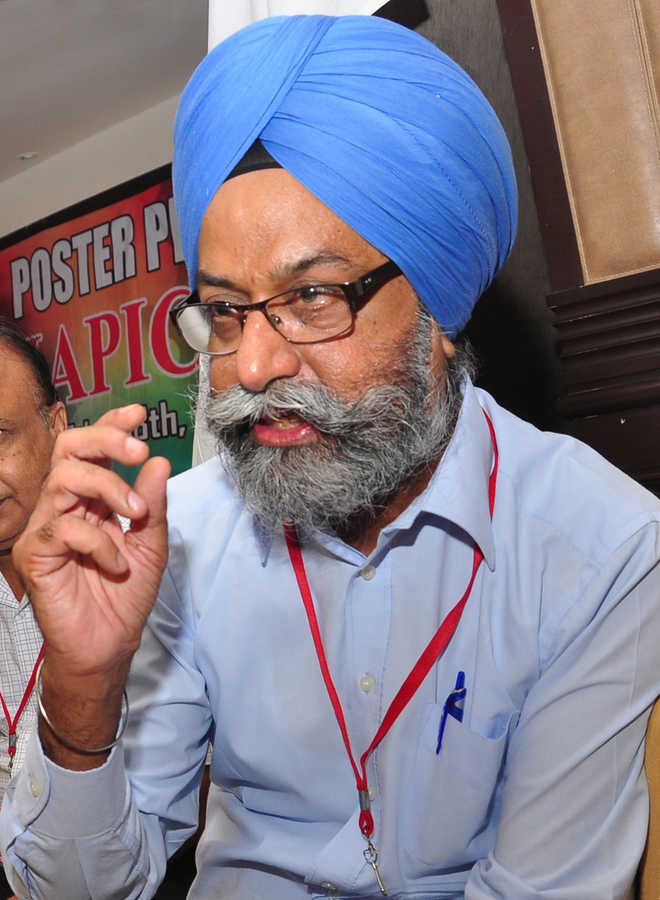 Tribune News Service
Bathinda, September 19
Dr GS Wander, who is the president of the Association of Physicians of Indian (API) and Professor and head of the Department of Cardiology, Hero DMC Heart Institute, a unit of Dayanand Medical College and Hospital, Ludhiana, maintains that heart attacks in India have increased five times since independence.
He said this lifestyle disease was prevalent among youngsters in India for which various factors, including smoking and lack of exercise were responsible.
He maintained due to drug consumption, especially through injections, the youth were turning sexually impotent.
Dr Wander, who is the winner of many awards — National IMA Dr K Sharan Cardiology Excellence Award (2004) and Dr BC Roy National Award (2006) — was here in 'MAPICON 2016' held yesterday, shared his views with Bathinda Tribune over the rising heart attacks.
Occurrence of heart attack is higher than cancer
The occurrence of heart attacks has increased gradually with every decade. After independence, the percentage of heart attacks was 2 per cent but that increased to 5 per cent in 1980 and up to 10 per cent at present.
One in 10 per cent, who is more than 30-year-old, is prone to heart attacks while about 25 per cent of people would ultimately die of the disease.
The mortality rate due to heart attacks is higher than the deaths due to cancer, accidents and other ailments.
About 50 per cent of heart attacks are because of genes, which means a person has been born in a family where members have suffered heart attacks or strokes at an early age.
If a person is born in a family whose members have rarely suffered from heart problems, he/she is at low risk.
The rest of the 50 per cent heart attacks are due to poor lifestyle and the lack of exercise.
It is a myth that heart attack is a western disease as people in India as well as Pakistan are suffering more heart attacks than any American, German or citizen of any other western nation.
"We might have differences with Pakistan or Sri Lanka but our forefathers were same and so are our genes. Heart attacks are more prevalent here than any other western nation," he said.
Smoking, lack of exercise increases risk
The young too are facing heart attacks and there is a rapid increase in such cases. The lack of exercise and smoking or chewing tobacco are some of the factors responsible for it.
"There is a need to counter this problem. The increased fluid in our body and the obesity, which we call 'Indian pattern obesity', is prevalent among us. The metabolism is not so conducive in people of India and the fat is stored in a peculiar manner. It enhances the size of the stomach where the fat is accumulated," Dr GS Wander said.
In rural areas, the percentage of heart attacks is 5 per cent whereas in urban regions, 10 percent people suffer heart attacks.
"It is up to you how you manage stress and do exercise. The consumption of drugs, substance abuse and smoking are the factors responsible for heart attacks among the youngsters. A number of kabaddi players have been injecting drugs and this has made many sexually impotent. The prevalence of diabetes is 15 per cent in India, which is highest in any western nation," the doctor said.
Top News
Pro-Khalistan activist Amritpal Singh has been on the run si...
Police officials yet to confirm whether this is the latest p...
The decision was taken during a Panthic gathering at Amritsa...
Can write to the Housing Committee seeking an extended stay,...
The suspect, likely a teenager, also died after being shot b...