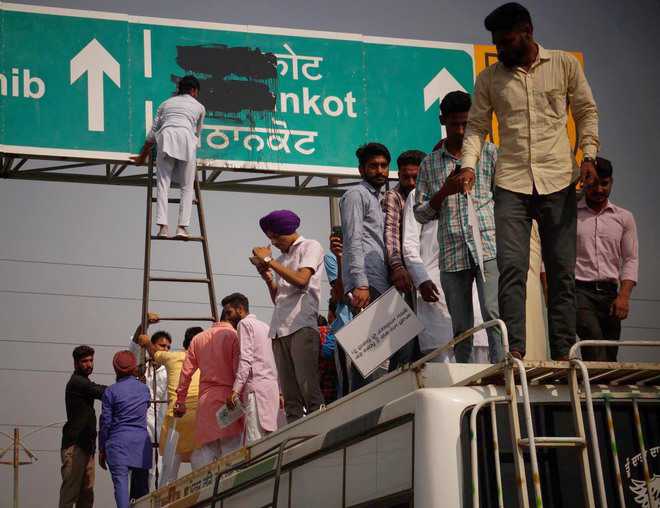 Nikhila Pant Dhawan
Tribune News Service
Bathinda, October 21
Members of various organisation today defaced road signs as part of a campaign, which they called 'Save Punjabi'.
During the day, members of the Malwa Youth Federation, Dal Khalsa and other organisations went around the city and its adjoining areas. They blackened the English and Hindi versions on the signboards.
As the police department and district administration intervened and stopped the youngsters from defacing property, they staged a road blockade in the city, accusing the administration of being hand in glove with the Central Government and working towards promoting English and Hindi in Punjab.
Led by union leader Lakha Sidhana, they climbed atop buses and ladders to paint the boards black.
"Despite the fact that Punjabi is our mother tongue, it has been relegated to the third place on signboards after English and Hindi. It is also shocking to see that at some places, the boards don't even use Punjabi. The language is not being given the respect and importance that it deserves," Sidhana said.
As police personnel and district administration officials tried to stop the violators, the latter blocked a road in Harraipur.
Entering into arguments with the police personnel, the union members said the BJP-led Central Government was keen on promoting Hindi as part of its Hindutva agenda and English as part of its "ulterior deals with corporate houses".
They also submitted a memorandum of their demands, addressed to the Deputy Commissioner, with the district administration officials.
Addressing the protest, Dal Khalsa vice-president Baba Hardip Singh said, "If we lose our touch with our mother tongue, we will also be out of touch with our history, culture, traditions, literature and values. We will not let this happen as it is not good for the present as well as the future generations."
After lifting the blockade, the protestors convened a meeting. It was decided that in case the state government failed in getting the Central Government departments to give due respect to Punjabi at public places and keeping it on a pedestal higher than that for English and Hindi, the organisations would continue to blacken the road signs.
Taking a serious note of the defacement of the milestones, the Public Works Department has taken up the matter with the National Highways Authority of India.
Top News
Metropolitan Magistrate Sanya Dalal has posted the matter fo...
Jail officials say the formalities of the release are being ...
Karan says happy to see father coming out of jail, last 10 m...
Bhagwant Mann says it is the eighth toll plaza shut down by ...
Kaushik Kumar Nath is arrested on March 30 and a special Pre...