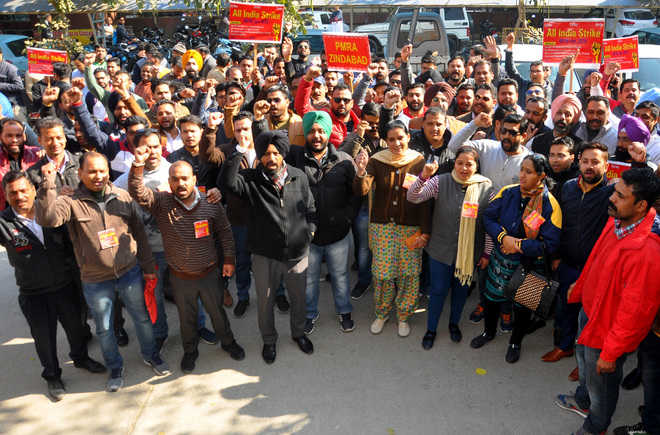 Tribune News Service
Bathinda, January 9
Members of the Punjab and Chandigarh Medical and Sales Representatives Union (PCMSRU) and Punjab Medical Representatives Association (PMRA), Bathinda range, staged a protest demanding removal of medicines from GST's ambit.
Members of the unions carried out a protest march from Gandhi Market up to the District Administrative Complex and submitted a memorandum of demands to the Assistant Labour Commissioner, Gurbant Singh Brar.
During the protest march, the union members raised slogans and demanded that their long-pending demands must be fulfilled by the government on priority basis.
Deepak Singh Buttar, president of the PMRA, said, "The government must fix minimum wages of medical representatives at Rs 25,000 (for workman category). Moreover, the government needs to clarify fixed timings for fixed eight working hours for medical representatives as there is no clarity about the time of the day these working hours apply."
Harmeet Singh, spokesperson for the union, said, "The Sales Promotion Employees Act (SPEA) must be implemented in full capacity. The government must ensure that there are specific provisions so that MRs are not subjected to unfair labour practices by pharmaceutical companies. And finally, the government must remove medicines/equipment from the GST's ambit so that people can afford cheaper medicines."