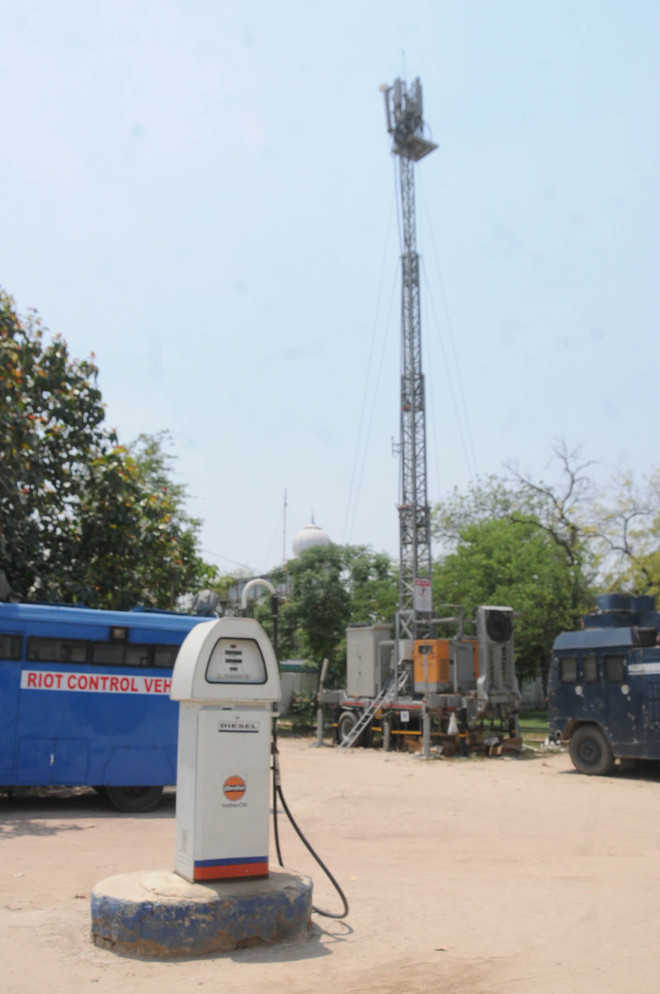 Sukhmeet Bhasin
Tribune News Service
Bathinda, May 4
A mobile tower of the Reliance Jio company has been installed at the petrol pump in the Police Lines area, in violation of safety norms.
A large number of official vehicles visit the fuel station every day. Many senior police officials reside near the pump but no one has raised a question over this.
Apart from installing of the mobile tower, the police petrol pump sans security norms.
No proper fire bucket filled with sand has been placed there, which can be used in case of any fire incident.
Boards suggesting switching off of mobile phones while filling fuel have been installed at petrol pumps but no such board is there at the Police Lines petrol pump.
Article 115 of the General Traffic Regulations literally prohibits keeping the engine, lights and electrical systems such as the radio or other devices that emit electromagnetic radiation on.
Experts claims that the two-way communication between the phone and the network tower takes place through electromagnetic waves – invisible waves that race to the network tower and return to the phone in seconds.
These waves have energy values in the range of 1.24 Mega electron-Volts to 12.4 Peta-electronvolts.
It is assumed that this electromagnetic radiation is a cause of concern because they carry so much energy.
They may cause sparks and consequently ignite gas, which could cause monumental damage in a place like a gas station.
SSP Naveen Singla said he would get it checked and if anything was found wrong, it would be corrected.
Top News
Gandhi was accompanied by his sister and Congress general se...
Two frontline combat aircraft of the IAF crashed during a tr...
PM Modi also appreciated people for eating food items made o...
Sarpanches of Haryana to hold 'chakka jam' against Amit Shah...