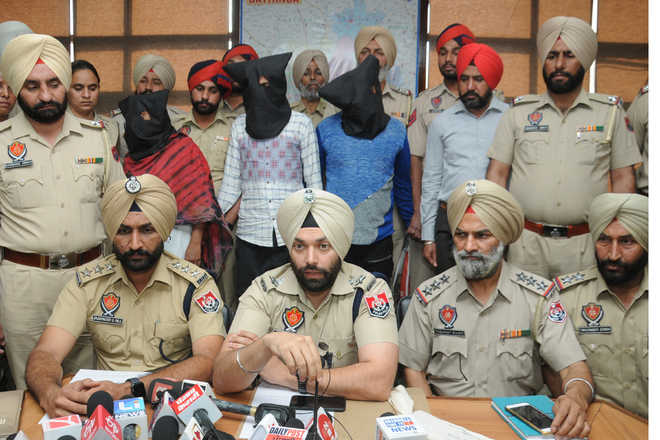 Tribune News Service
Bathinda, April 18
The police have arrested three persons in the case in which a woman's beheaded body was found in a drain near the Sai Nagar area late evening on Tuesday.
Bathinda Senior Superintendent of Police (SSP) Dr Nanak Singh, along with other senior officials, shared this information during a press conference held today.
Yesterday, the police had identified the deceased woman as Sapna, a resident of Dhobiana Basti, who was working in an orchestra group.
Sapna was found murdered and her beheaded body was recovered near the railway line in the Sai Nagar area under mysterious circumstances.
Addressing mediapersons, the SSP said, "The district police and GRP (government railway police), in a joint operation, have cracked the murder case in which a woman was beheaded and arrested three accused."
The accused have been identified as Sukwinder Singh alias Sukha, Poonam alias Pooja and Manpreet alias Meet.
The deceased was married and had been working in the orchestra group with the accused for the past two and a half years. The accused have been taken in police remand.
Nanak Singh clarified that the deceased was nearly 20-year-old as against the initially confirmed age of 32.
"Poonam was the mastermind behind the murder who, planned and executed it with the help of the other two accused. Poonam and Sapna did not go along well and with persistent non-cooperation from the latter, other orchestra members hatched a conspiracy to murder her. The accused had even stopped paying the Sapna for her work. They got her drunk and took her to the Sai Nagar area on a motorcycle where they murdered her with a sharp-edged weapon. To destroy the evidence, they beheaded her and threw the head at a distance of a few hundred meters," the SSP added.
When asked about the possibility of a rape as the body of the deceased was found naked and her clothes were torn off, the SSP ruled out the speculation citing investigation findings that have come out so far.
He also said as per the investigation, the deceased was not a drug addict.
On being asked if the deceased woman was forced into prostitution as claimed by the father of the girl, the SSP denied it saying that as per the investigation, the victim was not involved in it.
The police officials also said Sukhwinder, one of the accused, had already been booked in seven cases. While Sukhwinder and Poonam were friends, the latter treated the former as sister.