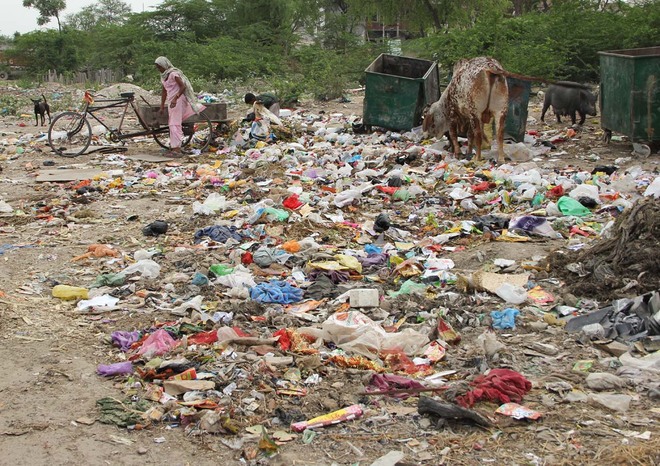 Gurdeep Singh Mann
Tribune News Service
Bathinda, March 29
While the entire administration is busy with the visit of Bathinda MP and Badal bahu, Harsimrat Kaur Badal, city residents are struggling to get rid of the foul smell emanating from garbage at numerous places in the city.
Workers of a private company, who are assigned the task of collecting the garbage, would dump the same in specific areas. The garbage is further lifted by the vehicles to be dumped at the Solid Waste Management Treatment Plant on the Mansa Road.
"We face the problem every week when the workers do not come and clean the mess," said Kulwant Singh, who lives behind the bus stand.
He added that officials of the private company, in connivance with the corporation authorities, have unofficially started dumping the garbage at roadsides leading to utter chaos.
It's pertinent to mention here that instead of purchasing or taking land on rent to dump the garbage, the workers use the city roads for the purpose of dumping the garbage.
The workers collect the garbage from households in carts and bring it to a designated area where they dump the same and leave. Then the company's vehicle collects the garbage which is further taken to the waste management plant for treatment.
These areas are, however, made at busy intersections, roadsides close to the residential and commercial areas. These points are made at secretariat road, Amreek Singh Road, Power House Road, Bhagu Road and at various other congested areas of the city.
"This is not the way to deal with things as the company has simply occupied the place of motorists to dump the garbage," said Gurwinder Singh, a resident of Ajit Road.
Apart from the numerable stench the garbage also bring troubles for the motorists, especially those riding the two-wheelers, he said. "Even if the garbage is collected from the roads, the garbage left the place slippery where two-wheelers usually skid and the riders end up getting injuries," alleged Parwinder Singh of Bhagu Road.
He said that even if the workers pick up the garbage, the stench doesn't die down and people passing through it have to cover their face. While the authorities on the one hand claim to clean the city, on the other they leave many areas full of garbage leading to diseases.
Residents demanded that the dumping of garbage at public areas should be stopped and instead, covered areas should be opted for to dump garbage which should be lifted daily.