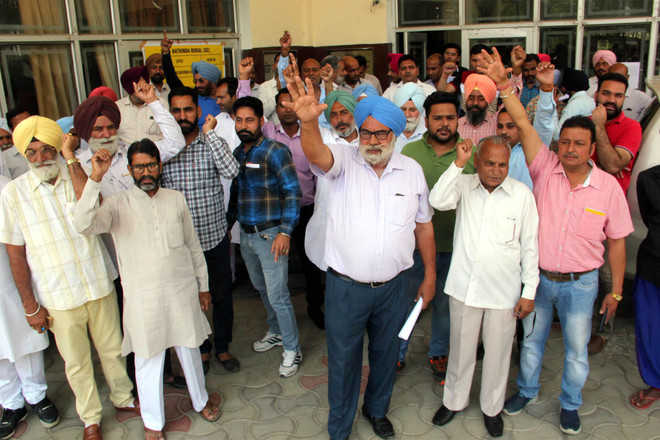 Tribune News Service
Bathinda, April 18
Residents and plot owners of Model Town Phase 4 and 5 staged a protest at PUDA's office for allegedly being charged extra money for the purchased plots by the latter.
The protesters raised slogans against PUDA officials, Finance Minister Manpreet Singh Badal and the state government.
Members of the Residents Welfare Society, president Charanjit Singh, Manjit Singh Bhullar, Surjit Singh and Balwinder Singh alleged that in the name of 'enhancement charges', PUDA officials have decided to charge them extra money for the plots bought six-seven years ago.
Charanjit Singh said, "In the garb of introducing connecting roads (approach roads) among other amenities, PUDA officials have asked the plot owners to pay Rs 1.5 lakh to Rs 2 lakh in instalments. At the time of buying these plots, there was no mention of any enhancement charges but now PUDA has been demanding these from more than 700 plot owners."
Singh added, "We had bought these plots at Rs 11,000 per square yard. PUDA had acquired the same land on very less rates from original land owners and sold us on extremely high rates. Now as if that was not enough, PUDA, in the name of increased land rates and enhancement charges, has started burdening us."
Harbhajan Singh Pannu, another plot owner, said, "A number of plot owners are in service or retired employees who have limited sources of income and have invested money to construct houses later. Asking for Rs 2 lakh from plot owners is harassment. The higher authorities must intervene and ensure that we are not subjected to this."
Later, members of the society met PUDA officials at their office, who assured them to work out a possible solution in the matter.
When contacted, Rishipal Singh, Chief Administrator, PUDA, said, "People had met me regarding this matter. The case was in the Supreme Court and as per the court order, we have to pay the exact rates asked by the owners for the land acquired."
Top Stories