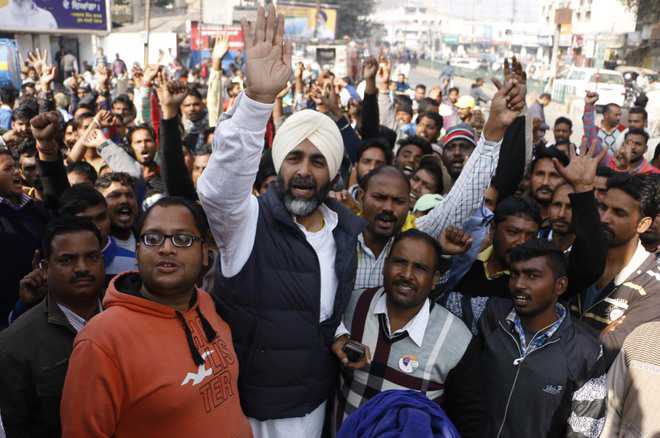 Sukhmeet Bhasin
Tribune News Service
Bathinda, December 28
The protest by sanitation and sewerage board workers has taken political colour as leaders of various political parties are trying to woo them.
Last evening, MLA Sarup Chand Singla and the Mayor took the sanitation and sewerage board workers delegation for a meeting with Chief Minister Parkash Singh Badal at the house of former mayor Baljit Singh Birbehman.
The Chief Minister assured them that the government would make a new policy in which their demands would be fulfilled.
Unhappy with the response, sanitation and sewerage board workers union announced to continue their strike.
With a motive to pacify the protesters to call off their strike, Mayor Balwant Rai Nath held a meeting with them last night but he failed to do convince them.
However, he was successful in creating a divide among the protesters as this morning, members of the sewerage board union held a separate protest outside the sewerage board office while JITF company workers held a protest outside Fire Brigade Chowk.
Seeing the situation, Congress leader and candidate from Bathinda (Urban) Manpreet Singh Badal reached the protest venue today and announcing support for the protesters, he assured that their demands would be fulfilled after the Congress comes to power.
Manpreet Badal said after forming the government, within one month, the contractual system would be abolished and jobs of all workers would be regularised.
Manpreet said after coming to power, the tender of Triveni company would be probed.
One member from each family would be given a government job, weather he/she is educated or not, he added.
Top News
Resolution gets the backing of 13 Council members, while the...
The written answer to unstarred question number 980, uploade...
Punjab Police tell Punjab and Haryana High Court that the in...
Move comes day after Ali walked out of Lok Sabha proceedings...
The tax department has deployed about 40 large and small mac...