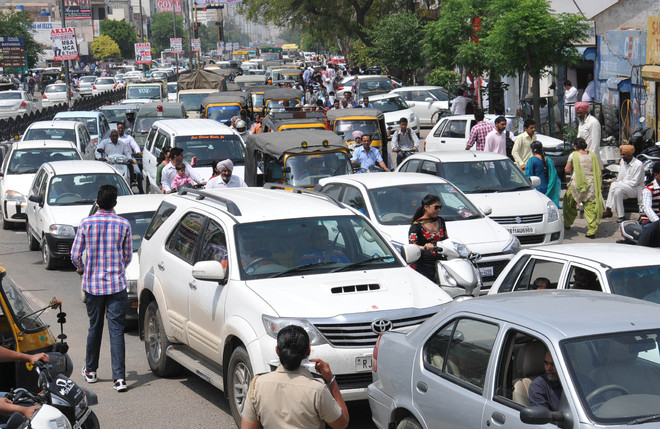 Gurdeep Singh Mann
Tribune News Service
Bathinda, April 26
Be careful while taking a deep breath, as toxic fumes may enter your body to badly affect the respiration system. Pollution in the city has led to increase in 20 to 30 per cent patients suffering from respiratory diseases in Bathinda.
Expressing anguish and deep concern over the pollution, the Health and Human Rights activist and consultant of Kishori Ram Hospital, Dr Vitull K Gupta said the air pollution is becoming unbearable in Bathinda.
He said while the country's capital, New Delhi, is already battling with the pollution after it was declared the most polluted city on earth, Bathinda is no exception.
Bathinda, he said has a unique distinction of four major sources of air pollution, the Thermal Power Station, rising number of vehicles, seasonal burning of agricultural waste and the black-smoke emitting generator sets.
Diseases like asthma, acute and chronic bronchitis, burning of eyes and skin allergy becomes common when the carbon content in air is merged with dust.
"We fail to notice the suspended particulate matter or the SPM with naked eye which is a major source of respiratory diseases," he said. While treating patients of this area for past 30 years, Gupta has noticed 20 to 30 per cent jump in such patients.
People more prone such ailments are traffic policemen who do not wear masks while performing duty on polluted places.
He said though no precise studies available to estimate respiratory health related diseases but the doctors attending such patients admit alarming rise of such patients. The fact—of not conducting any study—is also admitted by the officials of the Punjab Pollution Control Board (PPCB) in Bathinda.
Gurwinder Mann, a resident at the Ajit Road, said the thick clouds of smoke could be seen emanating from the chimneys of the Guru Nanak Dev Thermal Plant even from the Ajit Road—which is quite away from the plant. The plant burns two train-loads of about 6,500 tonnes of coal everyday to produce electricity.
"One could see these back clouds making a black layer on city's contours," said Mann. He added that the starting of one of its plants, just before darkness, could not rule out the possibility of camouflaging the smoke during late evening hours.
Generators, tractors, autos and more than 15 to 20 years old commercial vehicles too leave no stone unturned to pollute the air making it quite difficult to breathe.
The Punjab Pollution Control Board (PPCB) has, through a notification, imposed a ban on burning of paddy
straw in the state but no violators are booked under Section 188 (disobedience to order duly promulgated by public servant) of the Indian Penal Code (IPC) and the Air (Prevention and Control of Pollution) Act.
Interestingly, the traffic policemen would turn a blind eye on smoke emitting autorickshaws, tractors and heavy trucks but would leave no opportunity to issue challans to the vehicles that do
not release any kind
of pollution.
The number of autorickshaw in Bathinda increased from mere 250 to 5,000 this year as manufacturers and sellers of such vehicles made is easy to buy an auto with a down payment of mere Rs 20,000 to Rs 3,000.
XEN, Joginder Singh, Punjab Pollution Control Board, said, the department has not conducted any study to check the rising level of pollution in or around the city.