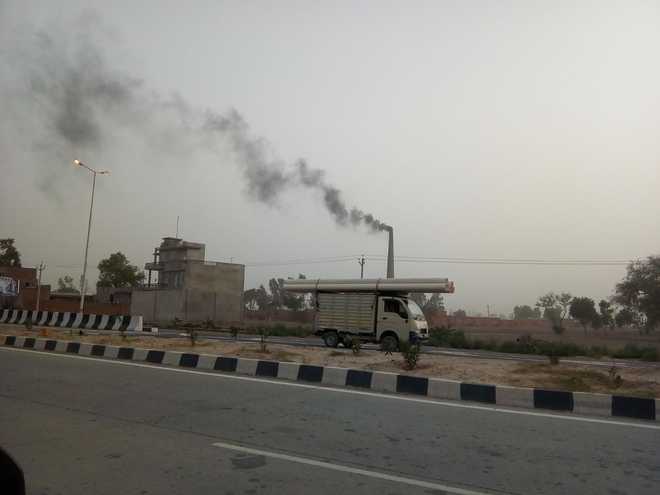 Balwant Garg
Tribune News Service
Faridkot, June 17
The Punjab Pollution Control Board (PPCB) has started the process to close two brick kilns in Faridkot.
It is alleged that M/s Aggarwal Brick Kiln and M/s Sushil Kumar BKO were violating the PPCB rules and regulation and the brick kilns were emitting black smoke much above the permissible limit with improper feeding of fuel.
Rohit Singla, SDO in the PPCB in Faridkot, said during the inspection of the brick kilns, it was found that there was no proper feeding of the fuel, causing nuisance with high emission of pollutants.
However, sources in the PPCB said though high emission of ash, sulphur and carbon by the brick kiln in this area was a common practice, after the development of many residential colonies close to these brick kilns, now there was a lot of hue and cry by residents.
Almost all brick kilns in the area use imported coal with high ash and sulphur content. For its low price, the coal is imported from Australian mines where the burning of this coal is banned for it causes high air pollution.
Besides using this low quality coal, the brick kiln industry is inefficient, known for its high profit margins and low investment requirement in this area.
"A cost-effective way to reduce carbon emissions is to improve operating practices and increase combustion efficiency by working with both kiln owners and workers, particularly the firemen who control the brick-firing process. They are likely to be motivated by seeing the potential fuel and cost savings that can be achieved by improved combustion. Firemen, other kiln workers and local residents would also benefit from improved air quality," said insiders in the brick industry.
Besides, the kilns have to use the zigzag technology, which relies on an arrangement of the bricks to force the air to follow a zigzag path, leading to more efficient fuel combustion and lower emissions, said Kahan Singh Pannu, chairman of the PPCB.
Pannu said there were about 3,000 brick kilns in the state, each manufacturing about 70 to 80 lakh baked bricks per year.
Burning of coal in the kiln generates air emissions containing carbon dioxide, carbon monoxide and oxide of sulphur.
For the high emission of pollutants, the PPCB has already asked all kiln owners not to fire the brick kilns for baking of bricks during the winter months — October 1 to January 31 — as the quality of air during this time is already poor due to stubble burning, Diwali and emission of dust post harvesting.
Top News
Railway Board has recommended for Central Bureau of Investig...
Amid 'pro-Khalistan sloganeering, the 39th anniversary of Op...
Focus on ways to expand bilateral defence and strategic ties
The incident took place when Binny had to load his SUV for t...