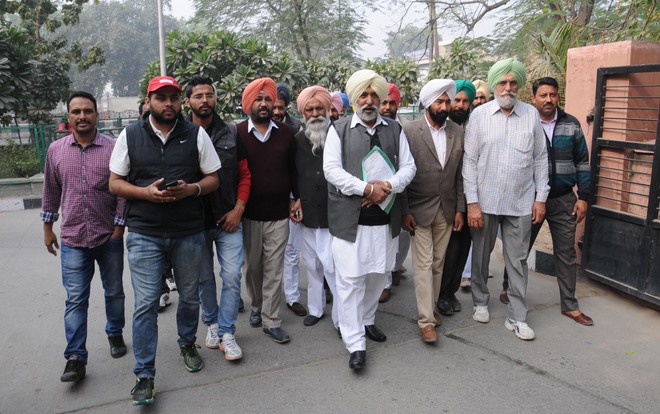 Tribune News Service
Bathinda, December 2
People's Party of Punjab workers headed by district president, Bathinda, Hardev Singh Bahoyatri, today submitted a memorandum to the Governor of Punjab through Deputy Commissioner at the mini secretariat over the issue of detention of journalists Surinder Singh and Baltej Pannu.
In the memorandum they have stated that the Punjab police is exhibiting the break in chain of command in state machinery to fulfill some vested interests of privileged.
They have stated that Baltej Pannu is a Canadian citizen who had received threats of violence from certain officers of Punjab police at numerous previous occasions as retaliation for his outspoken reporting on the human right violations and atrocities on local youth by certain authorities representing government of Punjab. He is a reknown blogger who has conveyed his views worldwide vehemently through social media.
Meanwhile, the other journalist Surinder Singh has been charged and imprisoned in a 27-year-old case. It is strongly suspected that the police was continuously harassing Surinder Singh to stop his investigative coverage from reaching the public. The 27-year-old case is back to June 1988 when Surinder Singh was affiliated with the Sikh Students Federation.
He was under the radar of vengeance of certain departments of Punjab government due to his involvement in promoting certain grave Punjabi issues though mainstream journalism.
They have stated for Governor's intervention to check the legitimacy of these charges and certain sections of IPC imposed against these prominent public voices. "We also entreat you to re-instate article 19(1)(A) of the Indian constitution providing every citizen the freedom to express his views on daily political happenings in Punjab," it has been stated.
Harvinder Singh Laddi, party state vice-president, Sukhpal Singh, Jatinder Sharma, Sadhu Singh, Baljit Singh , Ajiab Singhand others have signed the memorandum given to the Governor today.
Top News
Congress leader has been trapped in the consequences of the ...
About 47.58 lakh government employees and 69.76 lakh pension...
LS secretariat has sent notification to EC to declare Wayana...
Prominent leaders stopped by police and detained at Vijay Ch...
Overrules a 2011 verdict by a two-judge Bench