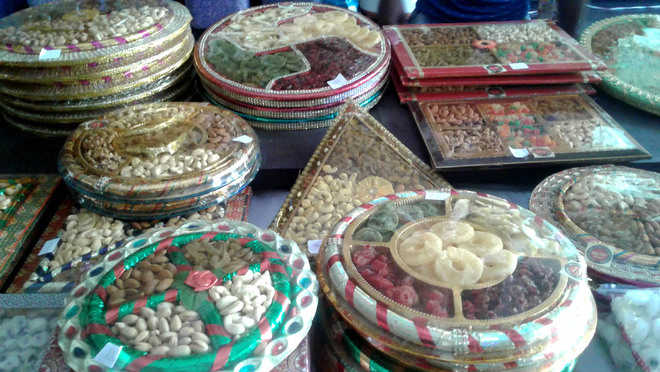 Our Correspondent
Bathinda, October 21
With an increase of approximately Rs 1,200 per kg as compared to the price last Diwali, pine nuts (chilgoza) are the most expensive dry fruit this season.
As compared to the prices last year, the price per kg of pine nuts has gone up by Rs 1,200. Pine nuts, this time, are available at Rs 3,450 per kg in wholesale market and at Rs 3,550 per kg in retail market.
The prices of dry fruits, including almond, cashew nut, pistachio, pine nuts and walnuts, have risen sharply along with a corresponding increase in demand. Almonds are available at Rs 690 per kg in wholesale market and almonds are available at Rs 720 per kg in retail market.
Thankfully, the cost of raisins has gone down this year. The wholesale price of raisins is Rs 240 per kg. Raisins in the open market cost Rs 260 per kg. The price of cashews is Rs 940 in wholesale market and Rs 970 in retail market; walnuts Rs 450 in wholesale market and Rs 470 in retail market; and pistachio Rs 1,000 in wholesale market and 1,030 in retail market.
Karyana merchant Pawan Kumar said, "Dry fruits are imported from other states. People these days are more interested in dry fruits, largely because of their having low calories."
Top News
India's final tally read 22 gold, 16 silver and 23 bronze an...
The Congress, Left parties, TMC and DMK voice strong opposit...
Tears into the Centre for 'weakening the foundations' of the...
Both Lok Sabha and Rajya Sabha adjourned sine die, four days...
Kapurthala Deputy Commissioner writes to his counterparts in...