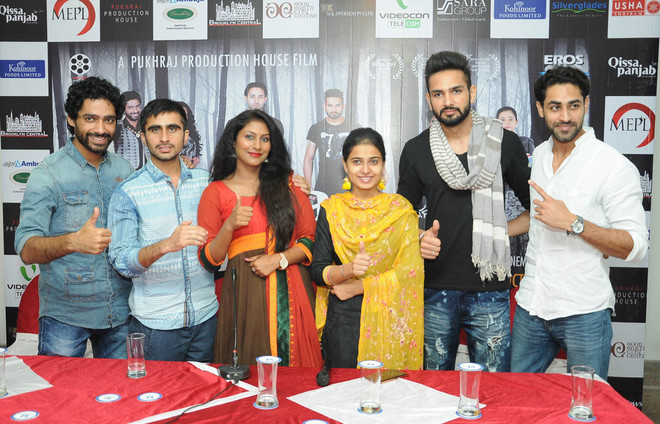 Tribune News Service
Bathinda, October 14
Lush green fields, lively youth and the spirit of 'chardi kala' are what people know Punjab for. Annu Bains has tried to reflect these and much more in her maiden film 'Qissa Panjab'. This was stated today by the team of the upcoming Punjabi film during a promotional event held in the city.
Elaborating on the theme of the film, the team said it was not just a film that focused on the lives of six young people, their hopes, dreams, aspirations and the choices they make to achieve them, it also mirrored society for all those people who nurture in their hearts a distinct love for Punjab.
"I wouldn't say that the spirit of Punjab has disappeared. I would rather say that the youth have moved into a direction that is ruining their future. Also, this is story that is relevant in the whole world today and not just India. The indiscriminate use of party drugs and substance abuse is affecting the next generation. I am hopeful that this would be a wakeup call for the youngsters. My focus is not on Punjab but on the young generation," said Annu Bains.
"To begin with, you may not see the typical green-yellow Punjab in the film. The entire story of the film is knitted in the cold misty foggy winters of Punjab which even though carry a sharp chill, manage to warm the heart. The cold winters and hot issues shown in the movie are a stark contrast and I am sure director Jatinder Mauhar has tried to take meaningful cinema to a new high," she added.
The film includes Preet Bhullar as Arjun, Kul Sidhu as Kismat, Dheeraj Kumar as Heera, Jagjeet Sandhu as Speed, Aman Dhaliwal as Deep and Harshjot Kaur as Sukhjeet.
The story and screenplay of the film has been done by Uday Pratap Singh and Apal Singh is the cinematographer.
The film is already catching attention on the social media for its music, which also includes tracks in the voices of Gurdas Maan and Nooran Sisters.