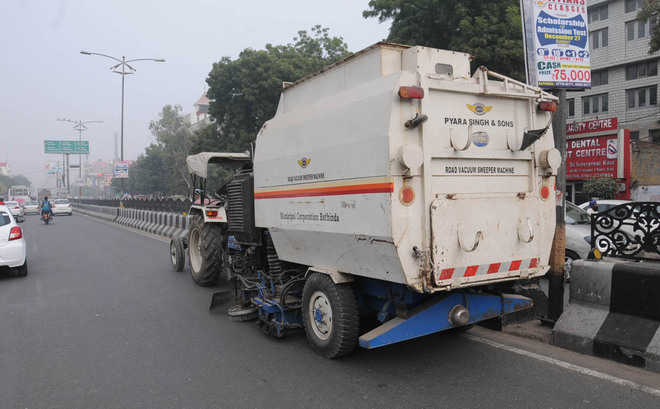 Bathinda, September 10
Road sweeping machines will now be operated for only six more months in the city as the Municipal Corporation Bathinda (MCB) has taken a decision to initiate manual cleaning of roads.
The MCB had paid Rs 57 lakh to a contractor for operating these sweeping machines worth Rs 40 lakh.
As proposal for giving one year contract of road sweeping machines came up in the general house meeting held recently, senior deputy mayor Tarsem Goyal raised objection over it and demanded that the road cleaning work should be done manually.
Municipal Commissioner Sanyam Aggarwal said the point was already under consideration. That's the reason that the MCB had given approval for road cleaning with machines for six months.
While the debt-ridden Municipal Corporation Bathinda struggles to manage its resources to continue development work in the city, it doesn't grudge paying more than Rs 5.5 lakh a month to the company hired for cleaning roads with sweeping machines.
The MCB has three sweeping machines, which operate on the GT Road and main roads in the city for a minimum of six hours a day.
It has been witnessed that the machines don't clean the roads properly and dust still remains on the roadsides.
Samrala-based contractor Pyare Lal and Sons has been hired by the MCB for operating these sweeping machines.
The contractor charges Rs 1,020 per hour for one machine from the MCB.
In one hour, it completes around 1 km and it works for minimum six hours per day.
Congress councillor Jugraj Singh said "Development work is suffering because of paucity of funds. At the same time, we are paying more than Rs 57 lakh for cleaning roads with these sweeping machines, which is uncalled for. A complaint on this will be sent to the Local Bodies' Minister for probe."
Senior deputy mayor Tarsem Goyal said, "The road sweeping machine project is sheer wastage of public money as despite spending huge amount, roads are not cleaned. I had strongly objected to this issue in the house meeting. Only six-month temporary extension has been given to the contractor and cleaning of roads should be done manually." — TNS