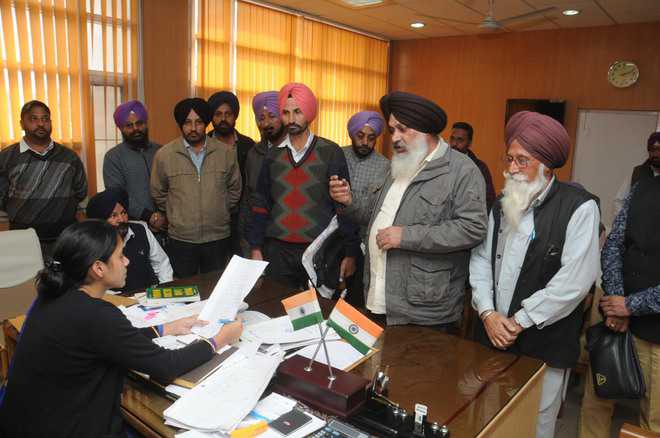 Tribune News Service
Bathinda, December 4
Members of the PRTC Workers' Union staged a protest at the bus stand here today. They assembled to raise their voice anger over the changes made by the Road and Transport Authority (RTA) in the timetable for the Mansa-Sardulgarh route.
Later, they submitted a memorandum of demands to SDM Sakshi Sawhney.
Union leader Kulwinder Singh said, "Without taking the PRTC and other private bus operators in confidence, the RTA changed the timetable for the Mansa-Sardulgarh route to favour Jhunir Bus Service. The decision is causing inconvenience to other bus operators. Besides, we have informed the RTA officer about the problem many times, but to no avail."
Subsequently, the RTA officer changed the timetable again after the complaint filed by the PRTC Workers' Union.
Udaydeep Sidhu, RTA officer, said, "The Jhunir Bus Service operator had filed a contempt petition in the High Court, following which we had changed the timetable. However, when a similar problem was being faced by the other bus operators, we changed the timetable as per their convenience."
Ajit Pal of Jhunir Bus Service said, "Though the new time table will hit our services, we are okay with it for the convenience of the PRTC and other private operators."
Hari Singh, a PRTC union leader, said, "The PRTC authorities have halted the city bus service for the past three months. The district administration has not taken any concrete step to resume the same."
Members of the PRTC union threatened to stall the bus service at the depot for two hours if their long-pending demands were not met.
Surender Singh, general manager, PRTC, said, "The problem of bus operators has been resolved. Now, nobody is going to observe a strike." Talking about the city bus service, he said, "We don't have any plan to resume it as of now."
Top News
Resolution gets the backing of 13 Council members, while the...
The written answer to unstarred question number 980, uploade...
Punjab Police tell Punjab and Haryana High Court that the in...
Move comes day after Ali walked out of Lok Sabha proceedings...
The tax department has deployed about 40 large and small mac...