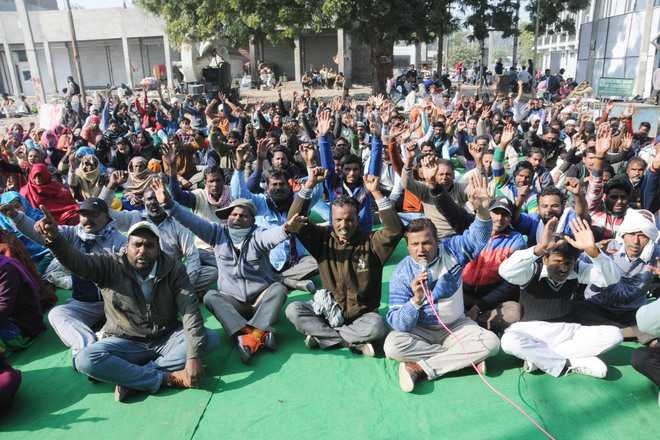 Tribune News Service
Bathinda, December 20
Sanitation workers today called off their strike after getting an assurance from MLA Sarup Chand Singla on their demand for regularisation of the services of temporary workers.
The workers had been on a strike for the past two days.
The workers also took out a protest march under Sanitation Workers' Union president Gora Lal from the Municipal Corporation's office to the fire brigade chowk. They also sat on a dharna against the state government and the civic body.
During the stir, protesters accused the state government of ignoring the demands of the sanitation workers.
Later, Bathinda (urban) MLA Sarup Chand Singla reached the fire brigade chowk to meet the agitators. He assured the sanitation workers that they had also been included in the regularisation bill passed by the state government in the Vidhan Sabha yesterday.
The MLA also claimed that they would get a written letter in this regard by tomorrow.
After getting the assurance, the sanitation workers announced to return to work from tomorrow. Residents and officials of the MCB must have heaved a sigh of relief after the workers called off their strike.
The sanitation workers also threatened to stage a protest at a bigger level if the state government failed to fulfil their demands. Besides MC employees, workers of a private company also took part in the protest.
The workers have been demanding the regularisation of the services of 140 daily wagers and temporary sanitation workers at the earliest.
They have also been demanding the recruitment of new 328 daily wagers workers and the promotion of educated sanitation workers to the post of clerk without any condition.
Top News
Resolution gets the backing of 13 Council members, while the...
The written answer to unstarred question number 980, uploade...
Punjab Police tell Punjab and Haryana High Court that the in...
Move comes day after Ali walked out of Lok Sabha proceedings...
The tax department has deployed about 40 large and small mac...