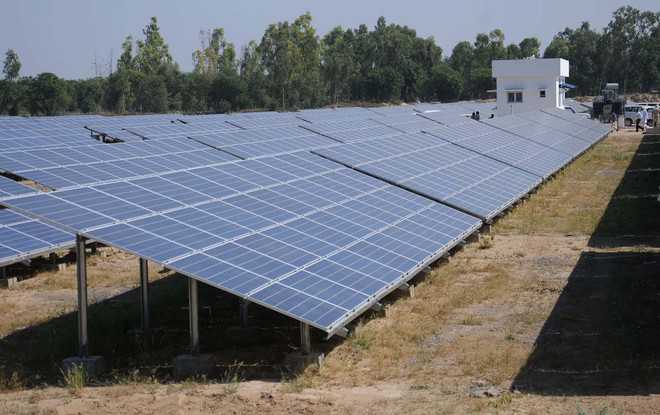 Perneet Singh
Tribune News Service
Bathinda, July 8
Set up by Adani Green Energy Limited more than a year ago, Punjab's largest solar power plant of 100 MW at Sardargarh village in Bathinda is turning out to be a game changer not only for the state that has a challenging task of meeting its future energy needs, but also for its farmers who have given their land on lease for the project.
Being one of the country's biggest horizontal single axis tracker plants at a single location, it has been generating 5.3 lakh units of power daily. Located on the Bathinda-Malout road, one could spot the sprawling premises of the plant from quite a distance, as solar power panels spreading over acres and acres of land present a picture in stark contrast to the lush green fields along the highways.
Sharing the success story, plant site head Shiv Kumar Verma said they were generating solar power at a cost of Rs 1.7 per unit, excluding the value of assets. The Adani Group has entered into an agreement with the PSPCL, under which it is supplying power to the latter at a cost of Rs 5.8 per unit. According to him, there are two units at the solar plant with a capacity of 52.5 MW each. However, at present, the solar power plant is generating 84 MW electricity. He says the plant will generate 100 MW electricity once it is upgraded to dual axis technology, which will enable solar modules to harness solar energy to the maximum. The existing single axis tracker technology does not tap solar radiation fully, leading to the shortfall in power generation. The biggest advantage of solar energy, he says, is that it is clean energy, which is very crucial in these times when there has been an alarming increase in pollution levels. "Each unit of solar power generated saves 800 grams of carbon (CO2) emission."
On the lifespan of the solar plant with horizontal single axis tracker technology, Verma said they witnessed a degradation of 20 per cent over a period of 25 years. A key factor affecting power generation at the solar plant is weather. "The peak season for us starts in the month of July when we are able to harness solar power for almost 13 hours daily, starting from 6 am to 7 pm. On the other hand, power generation drops to mere 10 MW during the monsoon season when the sky is completely overcast with clouds. Besides, the power generation is also hit whenever there is fog or smog. Last year too, when farmers resorted to stubble burning, resulting in smog, our power generation got adversely affected," he said.
Meanwhile, farmers in the neighbouring villages also seem content by offering their land on lease, though a few have also opted otherwise. The Rs 640-crore plant was set up after acquiring 641 acres of land belonging to around 300 farmers from four villages on lease at a rate of Rs 55,000 per acre per year with a provision of 5 per cent increase every year for a period of 30 years. Among the villages where land for the project was acquired include Sardargarh, Chugge Kalan, Karamgarh Satran and Baluana. Gurdeep Singh, a farmer from Sardargarh, who gave his seven acres for the project, said, "It has turned out to be a good deal for us as we were finding it difficult to irrigate our fields. Besides, rising input costs, declining landholdings and erratic weather has made agriculture financially unviable. Now, at least, we are sure that we will get a certain amount every year."
The plant has also generated employment opportunities for residents of nearby villages. Jaskaran Singh, a daily wager from Baluana village, said, "The plant has engaged a number of people for cleaning up solar modules. We are paid Rs 9,000 per month, which is okay, as we don't have to look for a livelihood in bigger towns and cities."