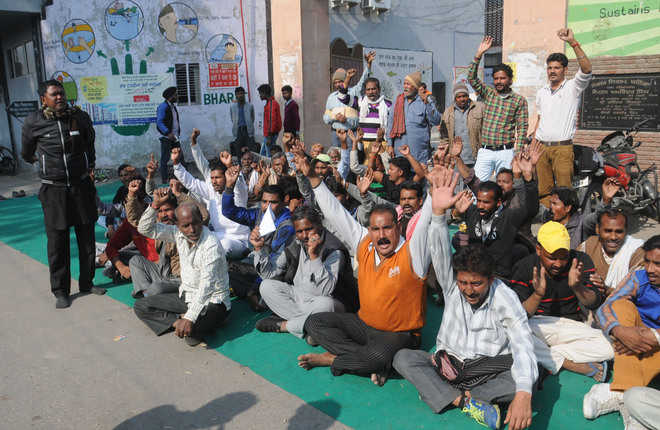 Tribune News Service
Bathinda, November 22
The Sewerage Workers' Union today staged a protest in front of the Municipal Corporation office here today. They demanded the regularisation of 48 contractual and outsourced employees. The protesters raised slogans against the state government for not fulfilling their long-pending demands.
The protesters allege that there are a total of 100 sewerage workers in the city, of which 70 workers are deployed at motor pumps located in various parts of the city while the remaining 30 are not sufficient to maintain the sewerage work of the entire city.
They demanded that the authorities should recruit staff immediately to keep the city clean.
Sewerage Workers' Union president Nem Chand said, "These 48 temporary workers are working for the past 12 years, but the government is not regularising their services. We have raised the issue with Local Bodies and Sewerage Board officials time and again, but to no avail."
He said they would intensify their stir, if their demands were not fulfilled in the days to come, and the state government would be responsible for the same.
Top News
Resolution gets the backing of 13 Council members, while the...
The written answer to unstarred question number 980, uploade...
Punjab Police tell Punjab and Haryana High Court that the in...
Move comes day after Ali walked out of Lok Sabha proceedings...
The tax department has deployed about 40 large and small mac...